Affordable Bamboo and Woven Wood Blinds: Adding bamboo or woven wood blinds to your windows is an easy way to upgrade your window treatments. Unfortunately, it is often an expensive proposition–but it doesn't have to be!
AFFORDABLE BAMBOO AND WOVEN WOOD BLINDS
One of the things we love about our house is how many windows there are. But the sheer number of them also made it difficult to stomach luxury bamboo blind prices–so I went on the hunt for some budget-friendly woven window treatments that would work for our living room makeover.
Below, I'll share the inspiration for bamboo blinds, the splurge and steal versions of my favorite woven wood blinds, and all the frequently asked questions like how do you mount them (inside/ outside mount) and what features to look for in the best window coverings.
Related: See how to mount your curtains here
CHOOSING THE BEST WOVEN WOOD BLINDS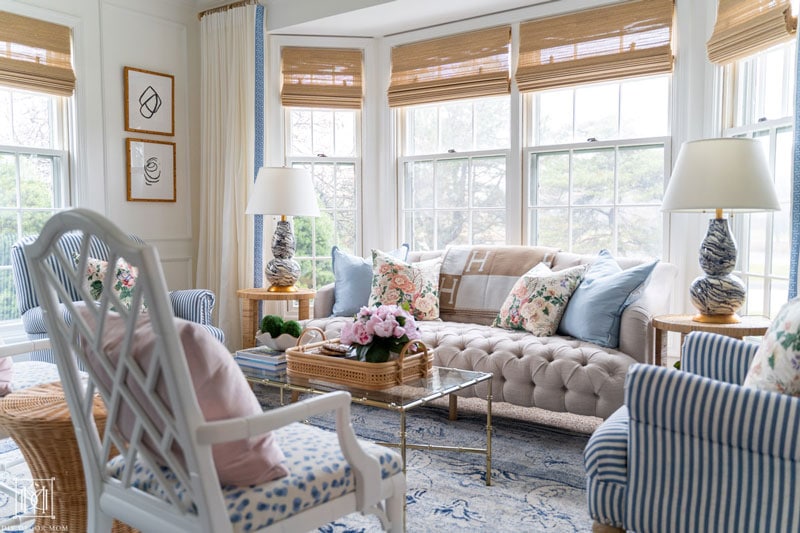 Knowing that we needed six full-length (72″) window coverings, I knew we needed an affordable version that came in well below $100 a window. The only problem? I wanted cordless window coverings if possible–and those usually start at $150+ a window of that size!
Luckily, after a little bit of searching and some recommendations from friends, I found some cordless woven wood blinds that are just perfect for our living room. My friend Chelsea My friend Chelsea has these same bamboo cordless shades and you can see them here!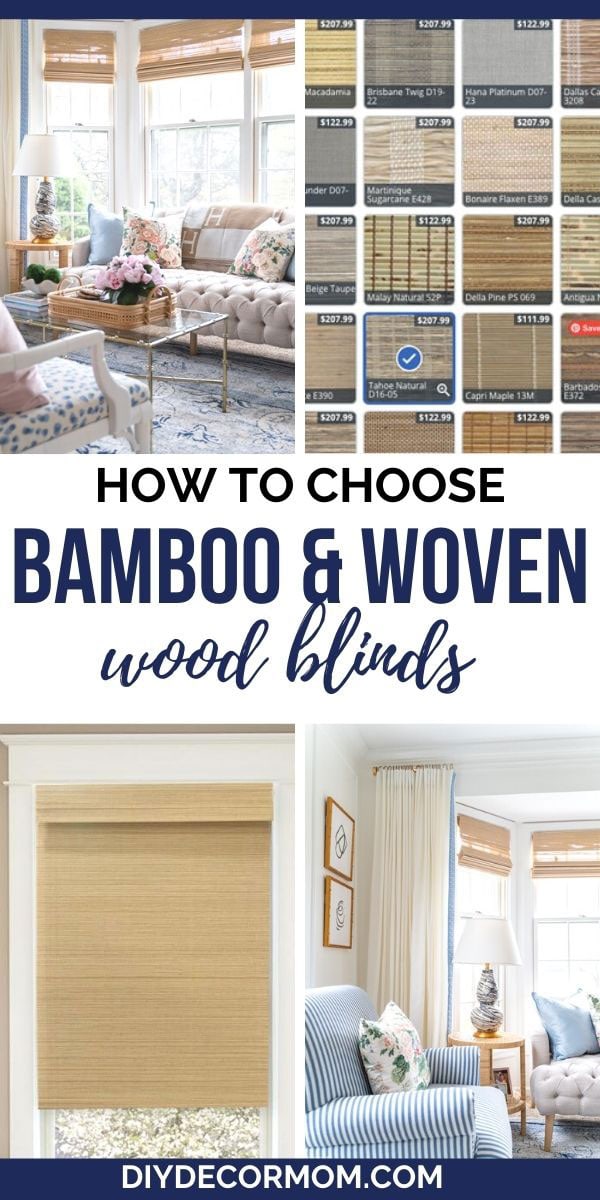 FINDING THE BEST BAMBOO SHADES
The first decision we had to make was whether we wanted light or a darker medium color bamboo blinds. You will also notice that some of the following inspiration photos are actual bamboo and others are woven wood. I use the terms interchangeably below since they are so similar. Technically, ours are woven wood blinds but they are meant to look like bamboo blinds.
TRADITIONAL BAMBOO SHADES
Many examples of traditional bamboo shades and woven wood shades shown below are a bit darker. I think that both look fantastic–it just depends on what shade works best in your room. Do you want a darker brown or a lighter brown? Both work wonderfully; but, it's up to you to determine which one ties in better with your decor.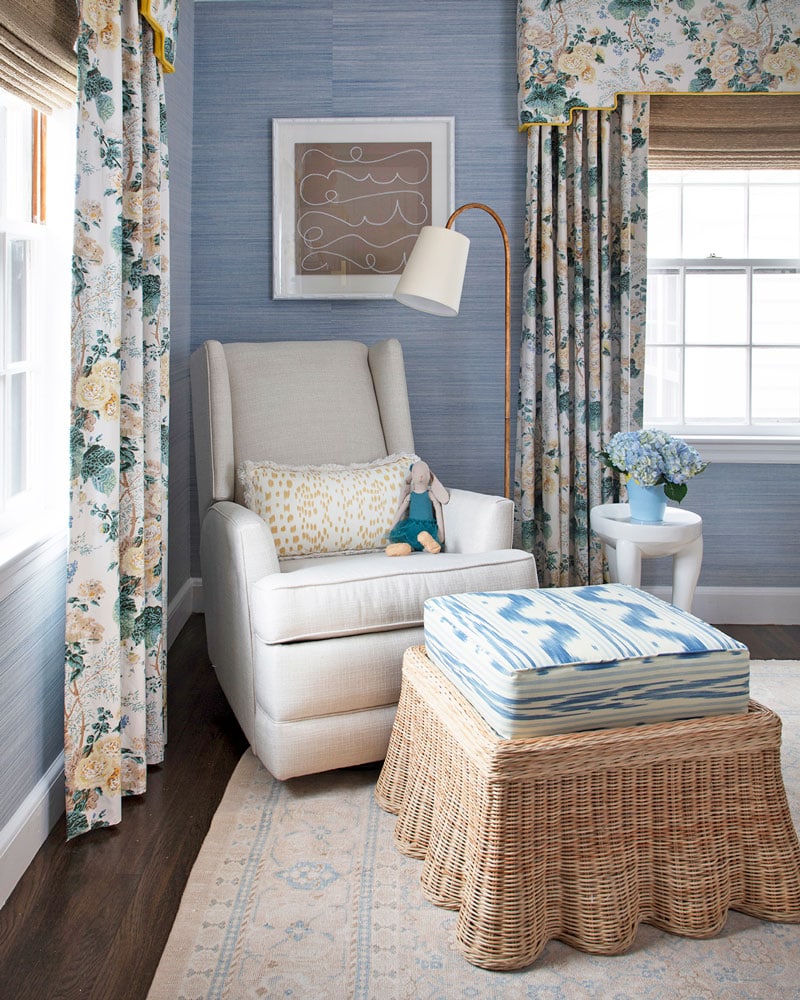 Erin Gates Little Girl Nursery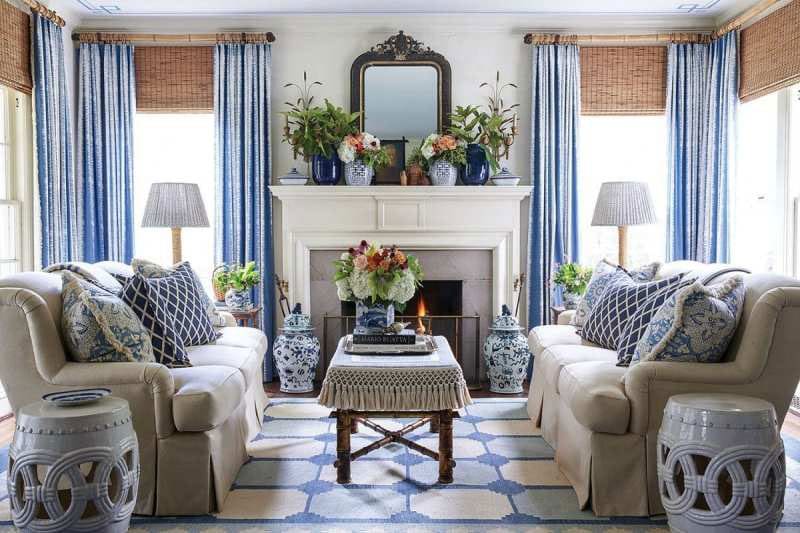 Heather Chadduck via House Beautiful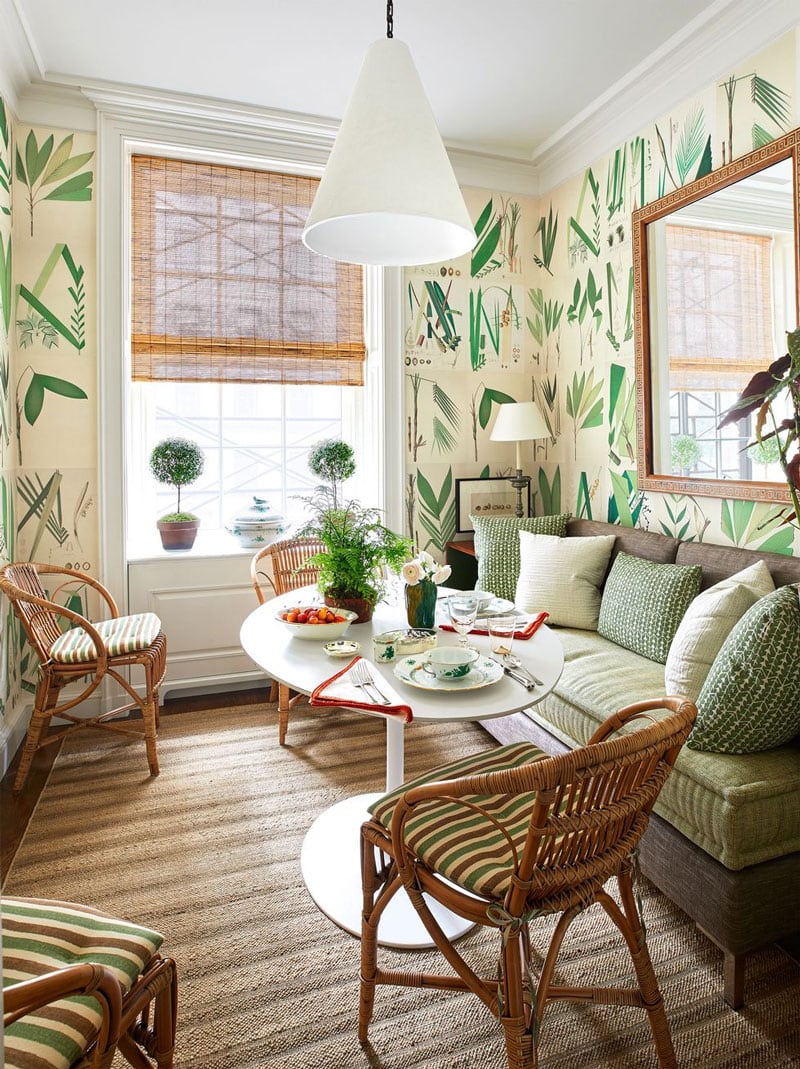 Tom Scheerer
To get the style of look shown above, you'd want to go with a highly textured bamboo blind–one that is medium darkness and has a bit of variation in the shades. We had something similar that we purchased from Home Depot/ Lowes six years ago; but, they no longer sell it. Some of the more expensive window treatments retailers like blinds.com or selectblinds.com sell them but they start at $150 a window.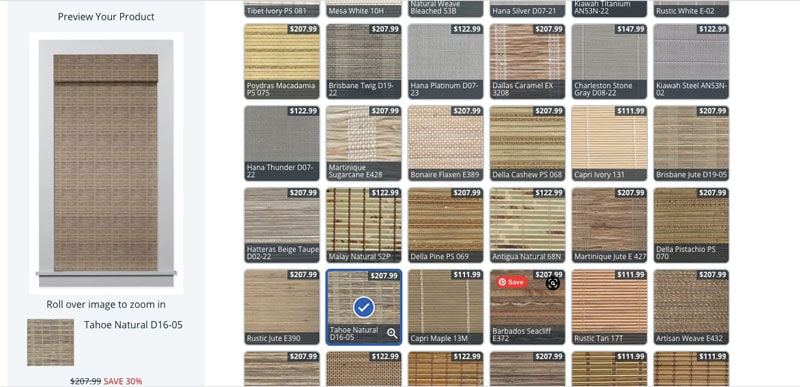 Blinds.com Tahoe Natural looks pretty similar as well as some of the other options.
If you are looking for an affordable version of these, the following option comes close; but, lacks some of the variations in color. This is what we have in the playroom!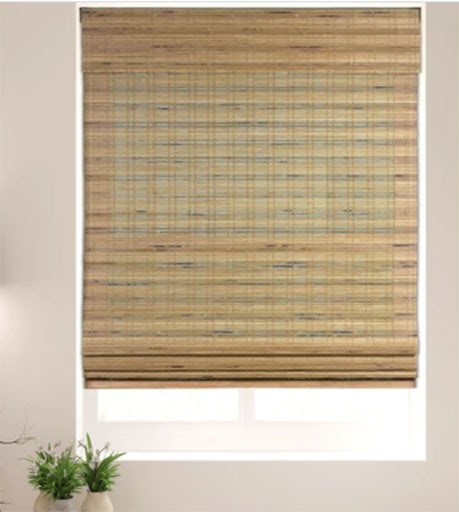 bamboo blinds here (about $65/ window)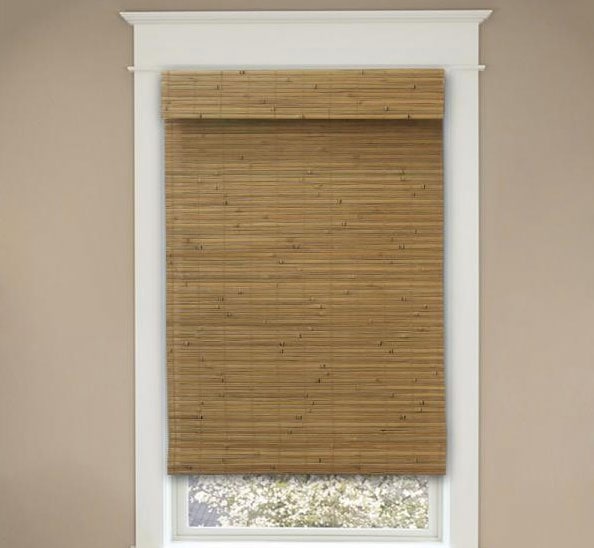 bamboo blinds (what we have in our playroom shown below) roughly $65/ window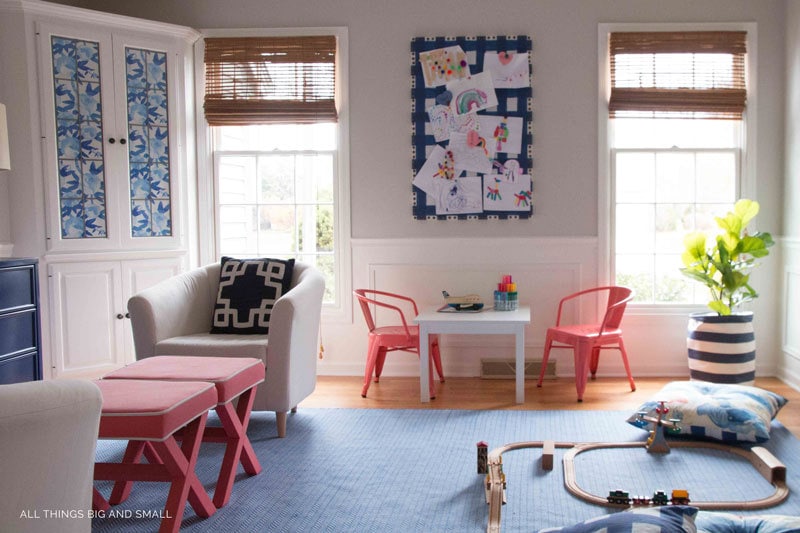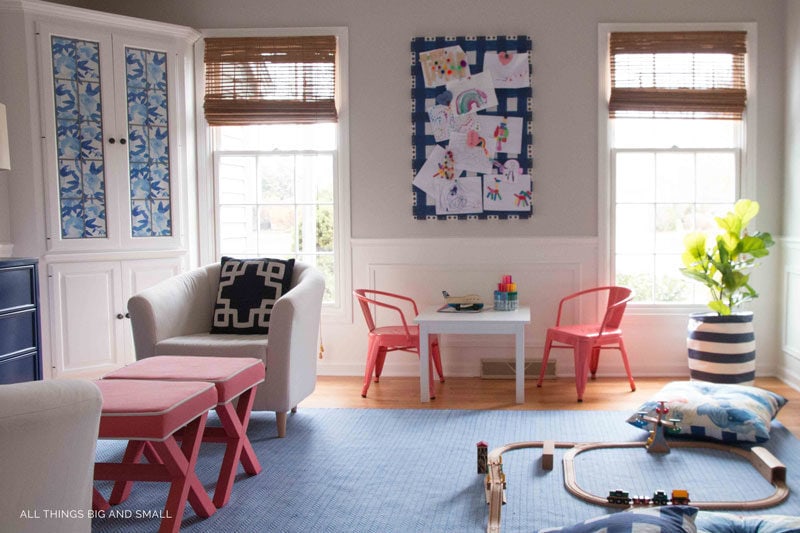 bamboo blinds
You can see they filter the light but they don't block it. They look better online than in person (in my opinion). However, they are a perfectly adequate option if you want bamboo blinds and not woven wood.
LIGHTLY COLORED WOVEN BLINDS
More lightly colored woven blinds have always been popular–these are the sea grass and cream colored blinds you will see in magazines. These lend a very subtle layer to a room and won't block as much light as the darker ones. Personally, I like both looks equally.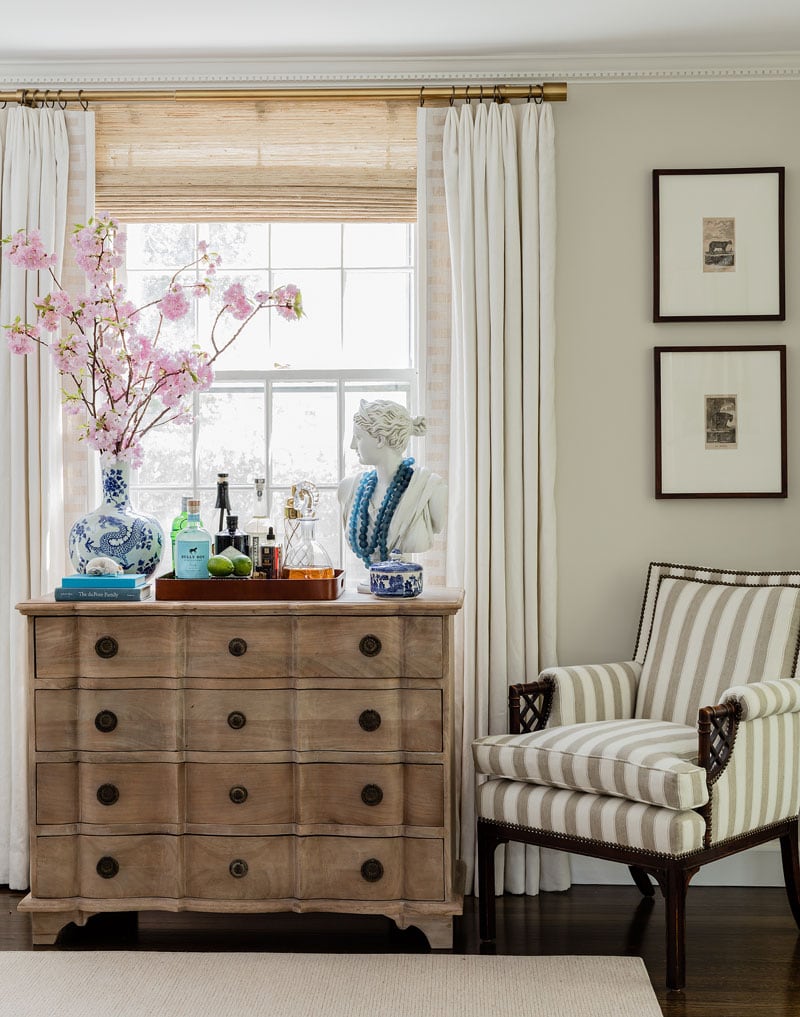 Erin Gates living room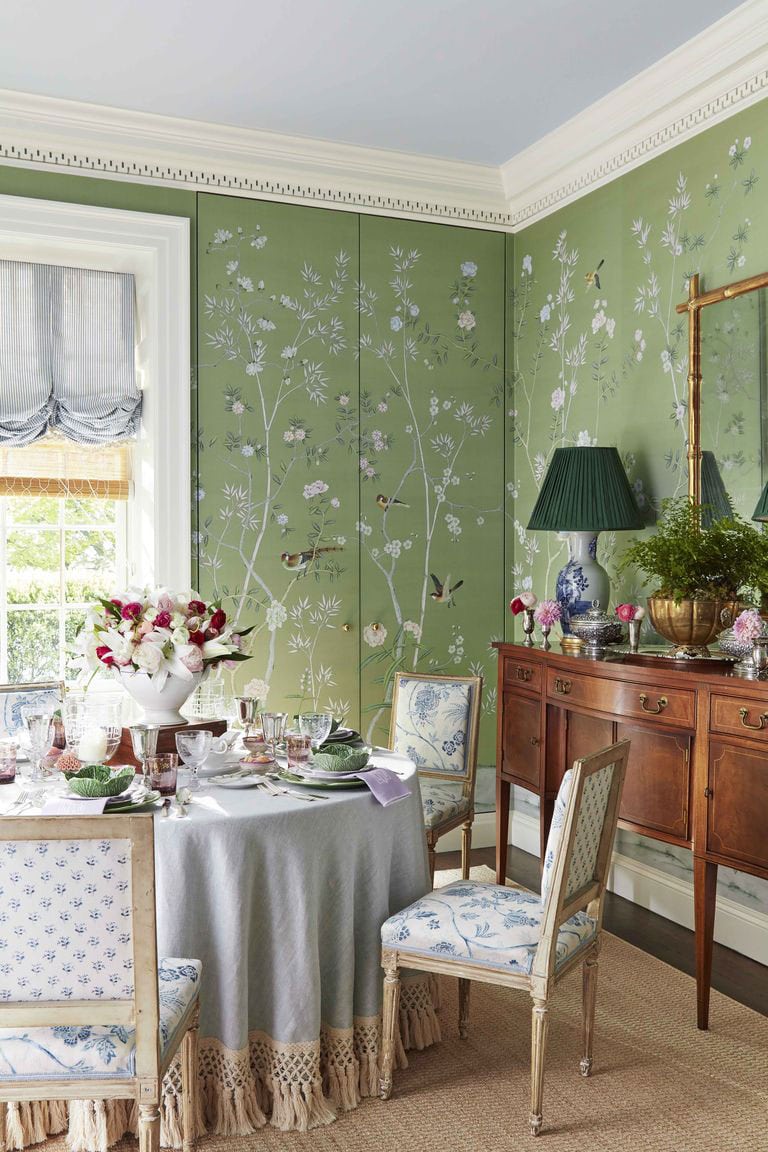 Design by Caroline Gidiere from Veranda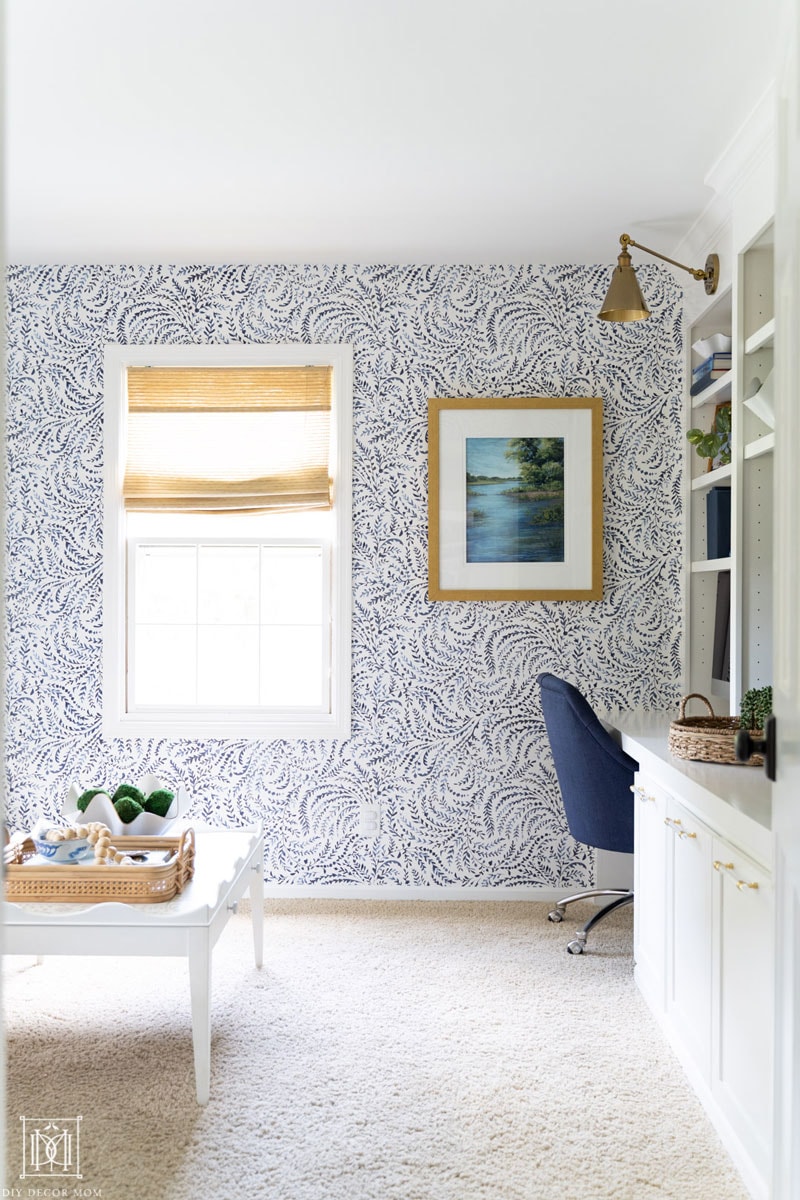 cordless woven wood/ bamboo blinds here (these are the ones we have) ($66 per window) shown in our office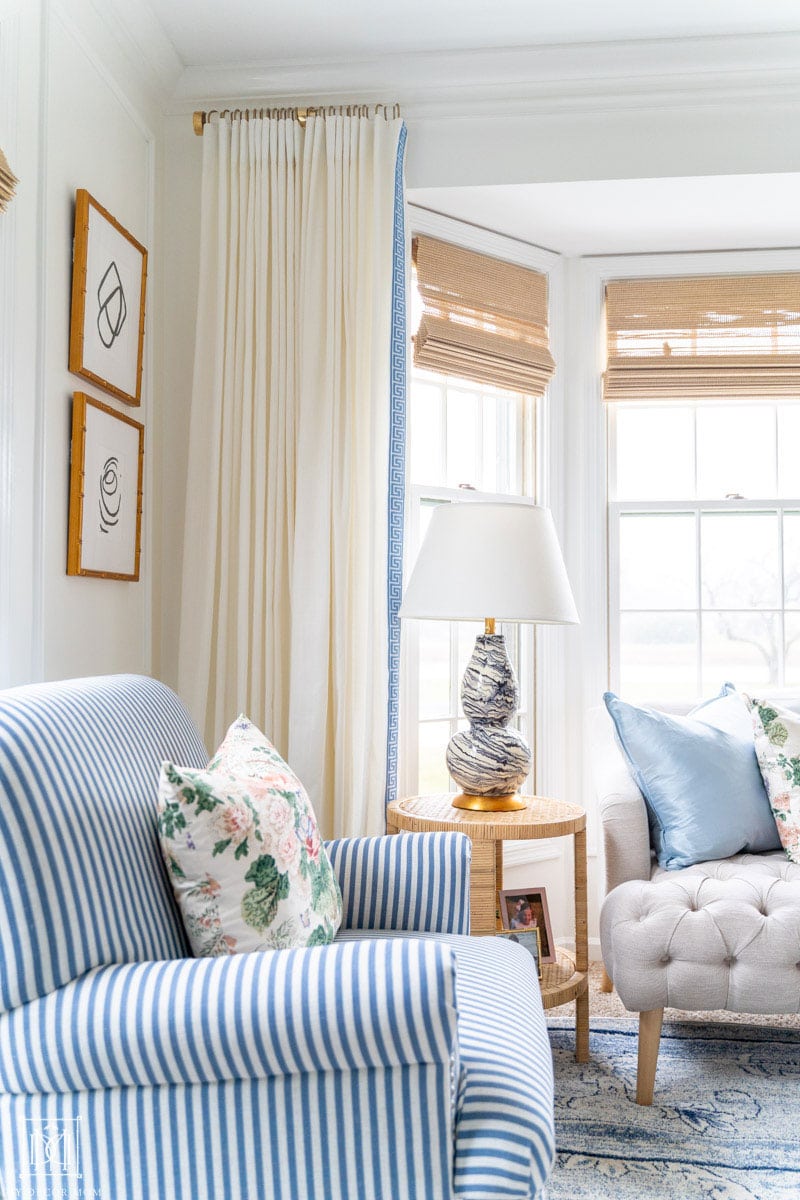 See the rest of our living room makeover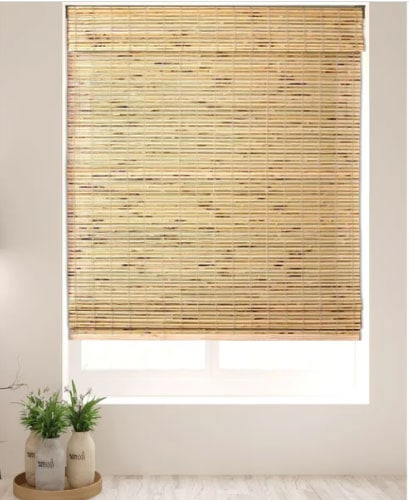 light speckled bamboo blinds
These were the top rated ones, and I do like how they have a bit more variation in color which looks more organic to me. However, they weren't available in our size. I can't personally vouch for them; but, they look lovely.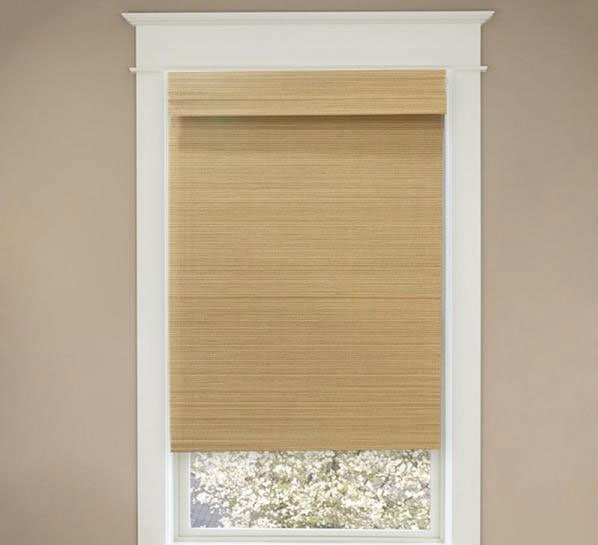 cordless woven wood/ bamboo blinds here (these are the ones we have) ($66 per window)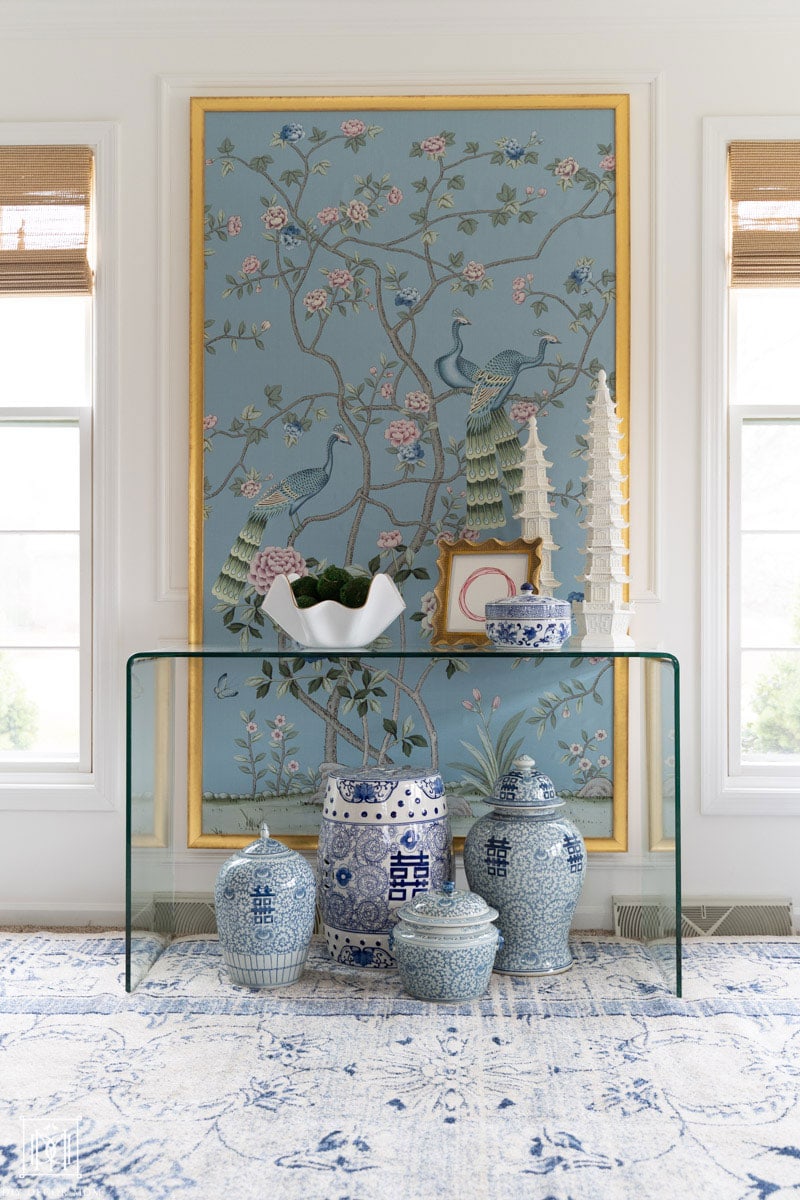 So, we ultimately went with these cordless woven wood blinds. They look way more luxe than they are and they are by far the most affordable option. Replacing all six windows came in at about $380.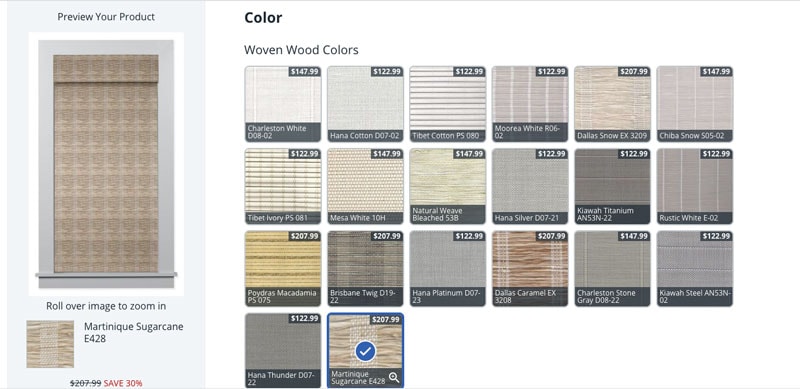 Blinds.com Martinique Sugarcane $207.99 per window
Related: See how we made DIY Greek Key Curtains here
HOW TO MOUNT BAMBOO BLINDS ON WINDOWS
We used an inside mount for our bamboo blinds because of the bay window. We wanted a cohesive visual line across the room that all the bamboo blinds started at the same point which would pull the room together. Otherwise, we would have considered using an above-mount or outside mount bamboo blind. When you use an above mount blind, you usually have curtains on either side. On our front windows, we don't have room to have two panels on either side–so we went with an inside mount.
Figuring out which style to use to mount your blinds will determine the length of blinds you need–so you need to know that before going into the store!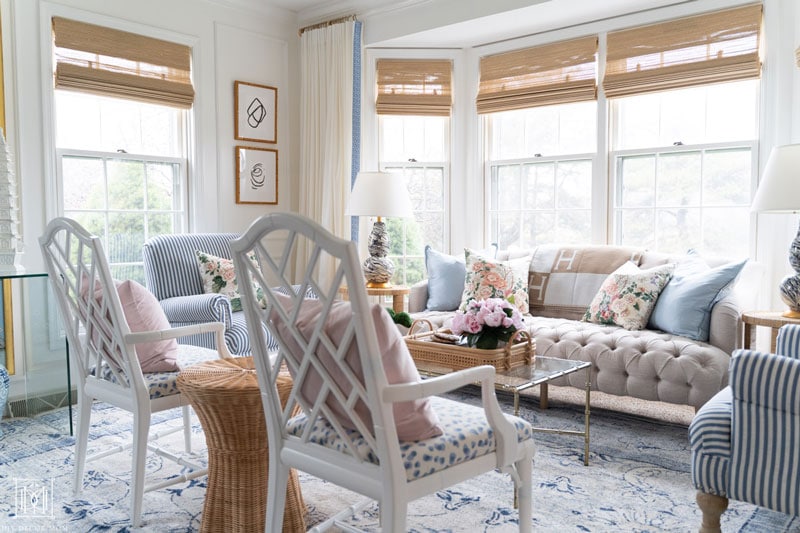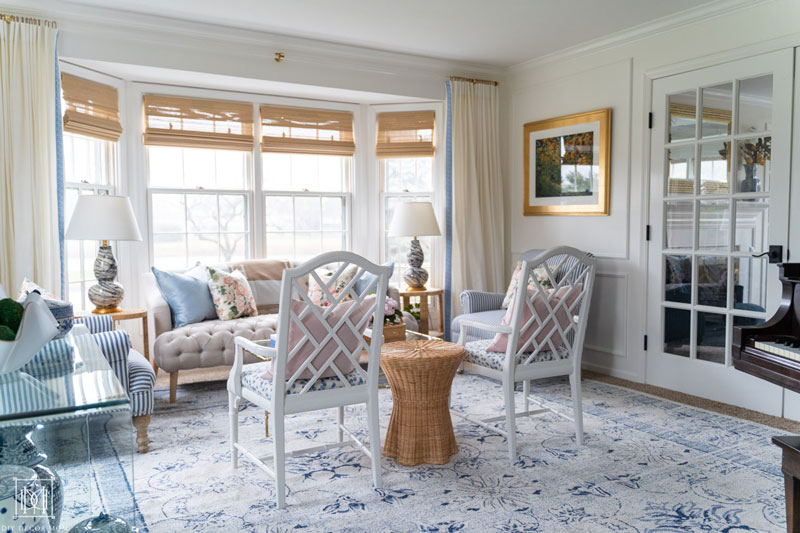 See all the sources from our living room here
INSIDE MOUNTED WOVEN WOOD SHADES
An inside-mount is typically used when you don't have drapes (like us) or you have a cornice box or window valance (as shown below.) If the sides of your window frame are shown (like all the examples below), you'll want an inside mount.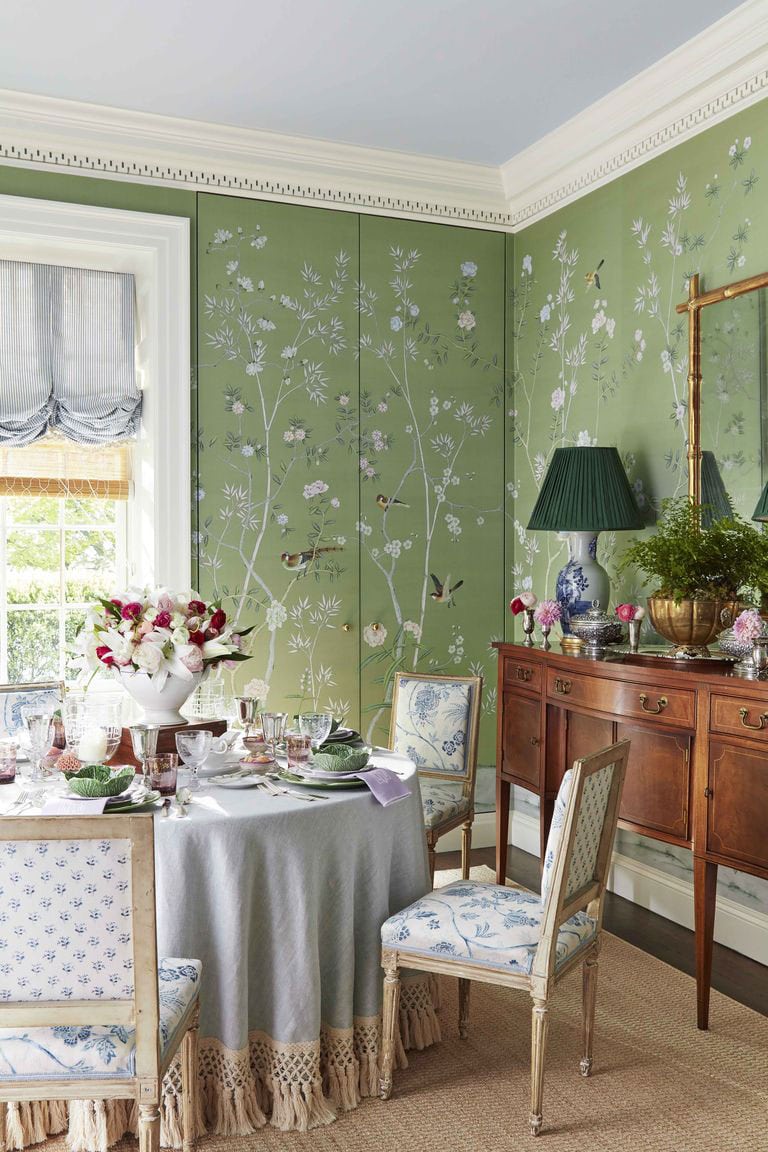 Design by Caroline Gidiere from Veranda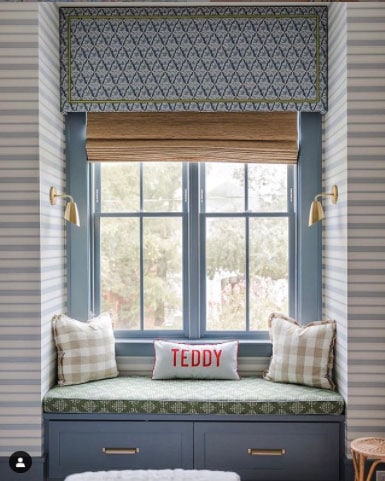 Katie Davis Design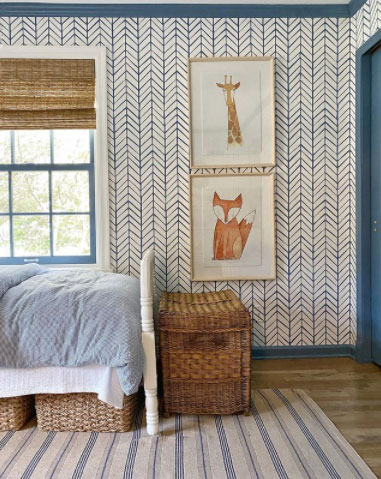 Amy Studebaker Design
OUTSIDE/ ABOVE MOUNTED WOVEN WOOD SHADES
An outside-mount or above-window mount is used most commonly with traditional drapes on either side. They obscure the fact that you mounted the shades high above the window and give it a more elegant look. Mounting the bamboo blinds right below the crown molding also pulls your eyes up higher than inside-mounts. You can see below, that you mount the top of the bamboo shades right below the curtain rod.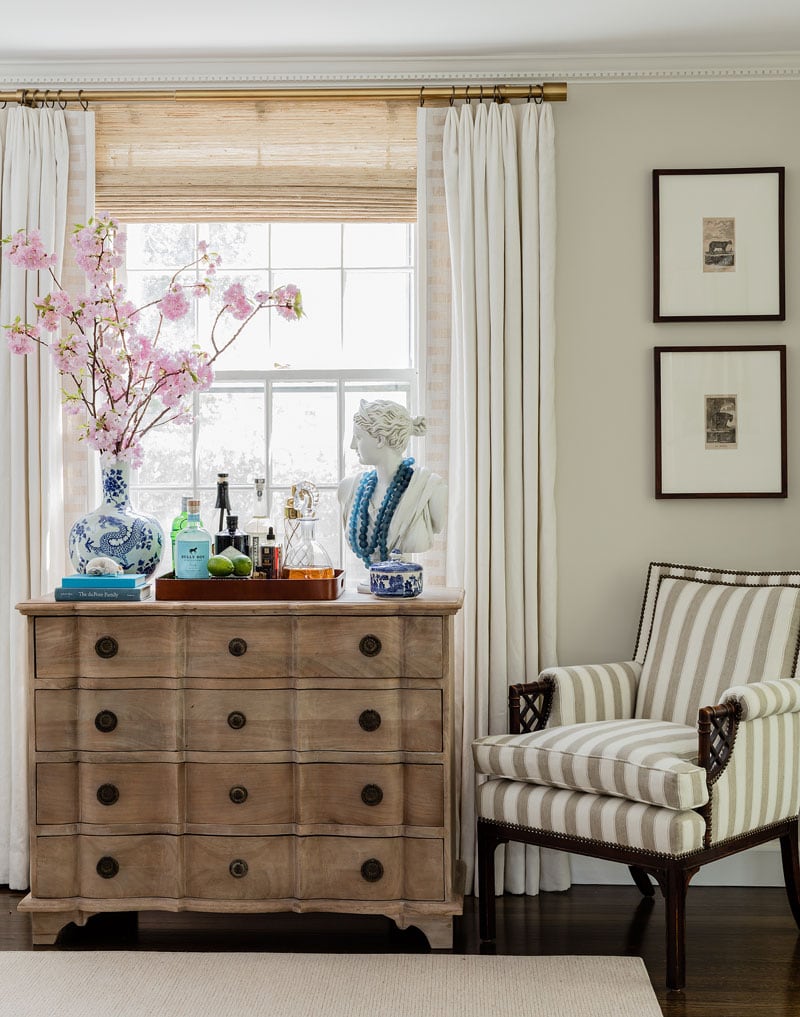 Erin Gates living room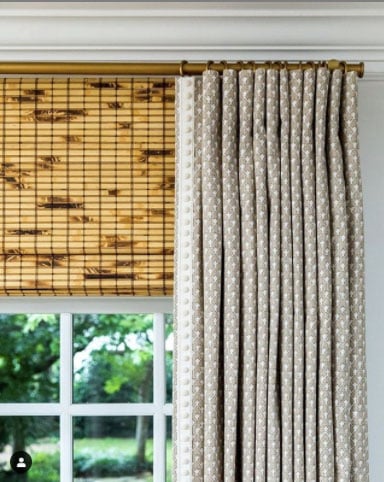 Anne Wagoner Interiors
CHOOSING THE BEST BAMBOO BLINDS
For us, it came down to budget. While I would love to spend more on each window and get the most beautiful bamboo blinds, I'd rather use my limited funds elsewhere! But, if you only have one or two windows to do, and have a bigger budget–then get the bamboo shades you want! Below, I've shown the simple math I used to make the decision:
BUDGET VERSIONS: (4 windows x $66) + (2 windows x $45) = $354 TOTAL
LUXE VERSIONS: (4 windows x $207) + 2 windows $156.99) = TOTAL $1,140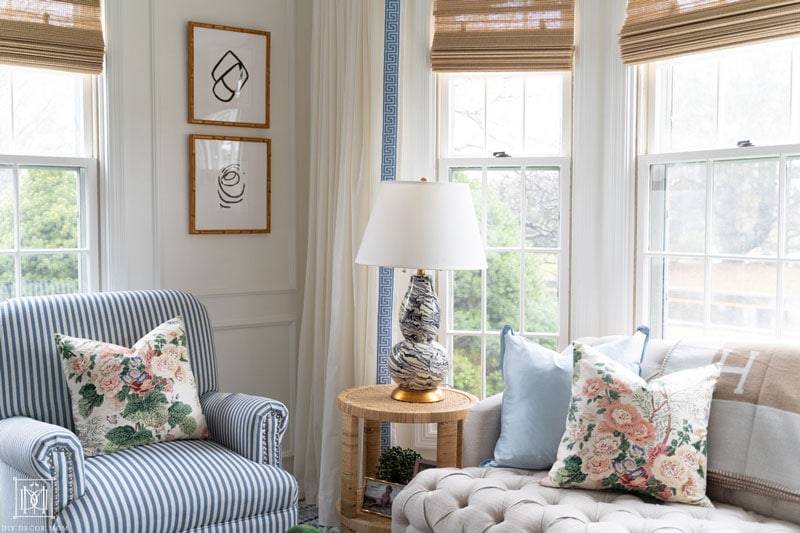 FAQs on Woven Blinds and Bamboo Blinds
Would they be good for a bedroom?
My brand of bamboo shades would not be a good choice for a bedroom. You would be better off either buying a bamboo shade that has a blackout liner sewn in, doing it yourself, or buying faux white blinds (which is what we have upstairs.) We have these white faux wood blinds in all of our bedrooms FYI.
Are your bamboo blinds blackout?
Mine is not blackout, but you can get several other options with a blackout liner–it will just cost you more (likely $150+ per window).
How much privacy do they give you?
They obscure shapes a little bit–but are more light filtering than anything else. We use them just to look pretty! And honestly, since they are in our living room and we never really raise or lower them.
How do you raise and lower them?
You can easily raise and lower them by holding the bottom rail. The bottom of the shade is stiff, so it serves as a bit of an arm.
How do they compare to other bamboo blinds?
These are my favorite blinds so far–especially for the cost. The cordless function is particularly important for our family at this time (kids ages 7-1.)