Looking for a fun and easy DIY project? This plastic bottle heart-shaped gift box is perfect for anyone who loves crafts. It's simple to make and looks beautiful when finished. You can use it as a storage box or decoration, depending on your needs. This project is perfect for Valentine's Day, Mother's Day, or any other special occasion. With just a few materials and a little bit of time, you can create something amazing that will be treasured for years to come.
Plastic Bottle Heart Gift Box
We all know that one person who is impossible to shop for. You know, the one who already has everything they could ever want? Well, this year, we have the perfect solution – make a customized heart box and fill it with candy or cookies!
This unique gift box is made out of an upcycled plastic soft drink bottle and a bit of crafting paper and glue. This makes it both eco-friendly and stylish. Plus, it's super easy to make! Just follow the simple tutorial and you'll have a beautiful box in no time. It truly is a perfect way to show your loved ones that you care while also helping the environment. To me, that is an obvious win-win situation.
If you want something else to make for this special day of love, start with this adorable heart gift in a bottle or just add a paper heart garland to your mantle!
What Should I Use For the Box Lid?
To make the lid of the box, you want something that you can form into a heart. Use something like cardboard, foam, or plastic. I like using pretty scrapbook paper or sparkly felt to cover it. If you are using something a little more plain, you can paint or decorate the top.
Similar Projects: Upcycled Milk Box Santa Claus Candy Box
For this version, I cut cardboard into a heart shape, then covered both sides with sparkling craft foam paper. Then, make the sides of the lid with additional craft paper. This method is frugal, easy, and perfect for customizing with different colors or styles to suit the receiver.
What Can I Use This For?
This box can be used for anything your heart desires! It is the perfect size for small items like candy, cookies or even coins. Below are some ideas that work great for this project.
When giving as a gift, fill this with candy, cookies, small trinkets, beads or even jewelry.
Use as a decoration on a buffet at a wedding or bridal shower, or even as a part of a Valentine's Day banquet. Fill with sparkling beads or fake pearls to make it look even more beautiful.
Cut a slit in the lid and put it on a child's desk for them to store loose change in as a "piggy bank".
Leave the lid off and use it as a small planter for a succulent or similar item for gifting on Valentine's day or Mother's Day.
Fill with handwritten notes of love and encouragement and give them to a friend or family member.
Use as a party favor and tuck small toys, balloons, puzzles, crayons, or coloring pages inside.
How Else Can I Decorate My Gift Box?
If you want to get really creative, you can decorate the outside of the box with washi tape, glitter, or anything else you can think of. I like to add some artificial plastic or even paper flowers to the top of the box for a little special addition.
More ideas include adding ribbons, sequins, or beads to give this box a beautiful look. You can also decorate the inside of the box by gluing some pretty paper or fabric. If you want to keep what's inside hidden, this is a fun way to make it a solid box rather than a clear and see-through.
Similar Projects: 3 Easy and Creative Fall Mason Jar Decorating Projects Anyone Can DO
Add some felt to the bottom of the box to create a jewelry box design. You can also paint small designs on the outside of the box or on the top of the box.
As you can see, the possibilities with this are endless and just up to what you need or want to use the box for.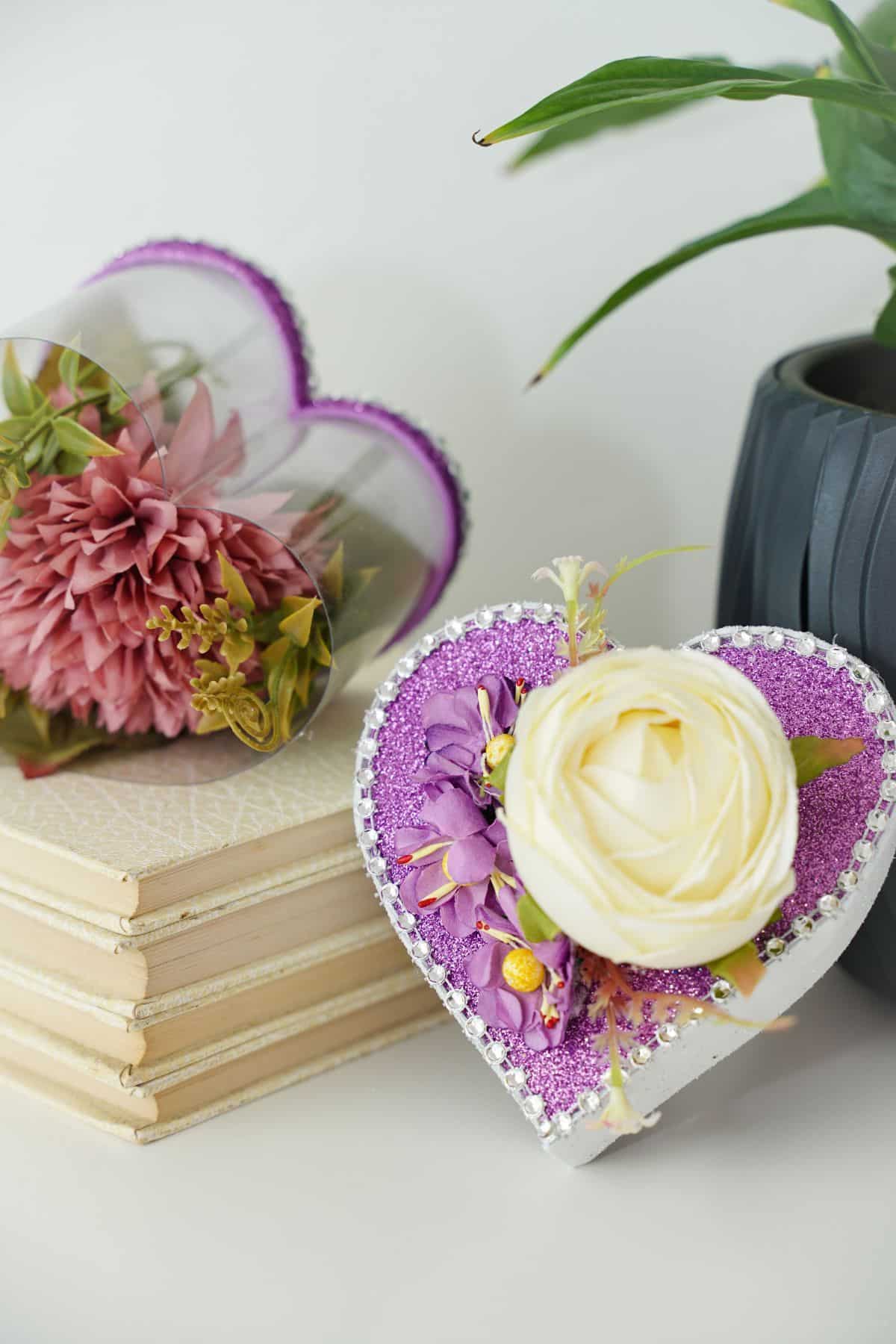 Supplies Needed
How to Make a Heart-Shaped Gift Box
Video Tutorials:
For this project, you will start with a 2-liter plastic bottle for the base. I recommend washing it out well and letting it dry plus taking any labels off. Then, you will cut the bottle and remove the top and bottom, so all that remains is the middle with flat sides.
Once this is cut out, lay it down on the table and press it so it is flat and you have made a crease on both sides.
Then, you will separate it, and on one of the sides created, you will invert that crease and push it down toward the other crease. This creates the heart shape you want. Shape it how you prefer until it holds the heart shape, then set it aside.
Now, on the purple glitter paper, measure and cut out a ½" wide strip. Depending on how big your heart is, you may need multiple strips.
Then, glue this around the heart of the plastic, so that it is wrapped around the bottom edge. Add additional strips of the purple foam if needed.
Now, place this heart onto a piece of foam, and trace around it. Then, cut out this heart shape.
Similar Projects: Upcycled Rustic Wine Cork Pumpkin Decoration
Now, glue this to the bottom of the heart.
Next, add a bit of beaded ribbon around the bottom edge to cover where it connects.
Then, it's time to trace another heart onto a piece of cardboard that is the same size as the heart box. cut out this heart.
Now, trace two hearts of the same size onto the purple glitter paper and cut them out.
Put the cardboard between the two pieces of purple glitter paper hearts so their shiny sides are both facing outwards.
Now, you will cut a 1″ wide piece of white foam paper. This will go around the piece you just made, to create a lid.
Glue the foam so that it is on the edge of the top purple heart and hanging down on the bottom.
Glue some beaded ribbon to the edge of the heart, on top.
Then decorate the top of your box with flowers or beads as desired.
Once you are happy with the look, you can then fill the box and put the lid on top.
More Easy Valentine's Day Crafts
I love making beautiful things for Valentine's Day! Whether it is as a decoration for my home, or a simple gift, there are tons of ways to turn the holiday into a favorite crafting season. Below are some fun ideas for you to check out and make soon. Make sure you bookmark them, print out the tutorials, or pin them to Pinterest!
Similar Projects: Upcycled Plate Earring and Jewelry Holder
Yields: 1
Turn an old soda bottle into this adorable heart shaped gift box! A perfect way to deliver Valentine's Day treats!
Active Time
30 minutes
Total Time
30 minutes
Difficulties
easy
Estimated Cost
$0
Instructions
Cut the top and bottom of a 2-liter soda bottle off leaving just the flat-sided middle.
Press this piece flat and crease both sides.
Then, pull it apart, and push one of the sides down to create a heart leaving one end pointed and the other side in a heart shape. Set this aside.
Now, cut a ½" wide strip of the purple glitter paper out.
Glue this around one of the bottom edges of the heart shape so that it is wrapped all around.
Now, glue this end of the heart onto the back of the white foam paper.
Cut out around the edge so you have a sealed base on your heart.
Now, glue a strip of the beaded ribbon around the bottom edge of the heart.
Next, trace the outside of the heart box onto the piece of cardboard and cut out the heart.
Trace two of the same size hearts onto the purple glitter paper, and cut them out.
Now, glue the purple glitter foam on either side of the cardboard heart.
Cut a 1″ wide strip of white foam paper.
Glue this to the heart you just made, so that it lines up on the top edge and is longer on one side. This creates a lid for your heart box.
Next, glue the same silver beaded ribbon on the top edge of the lid.
Then decorate the lid with a few of the fake flowers in a design you like.
Fill the box and place the lid on top.
Notes
Leave the top without flowers, cut a hole in it, and make it for receiving Valentine's or turn into a coin bank.
Recommended Products
As an Amazon Associate and member of other affiliate programs, I earn from qualifying purchases.
Finished Project Gallery
This is ideal for tucking cookies or candy into and giving as a gift.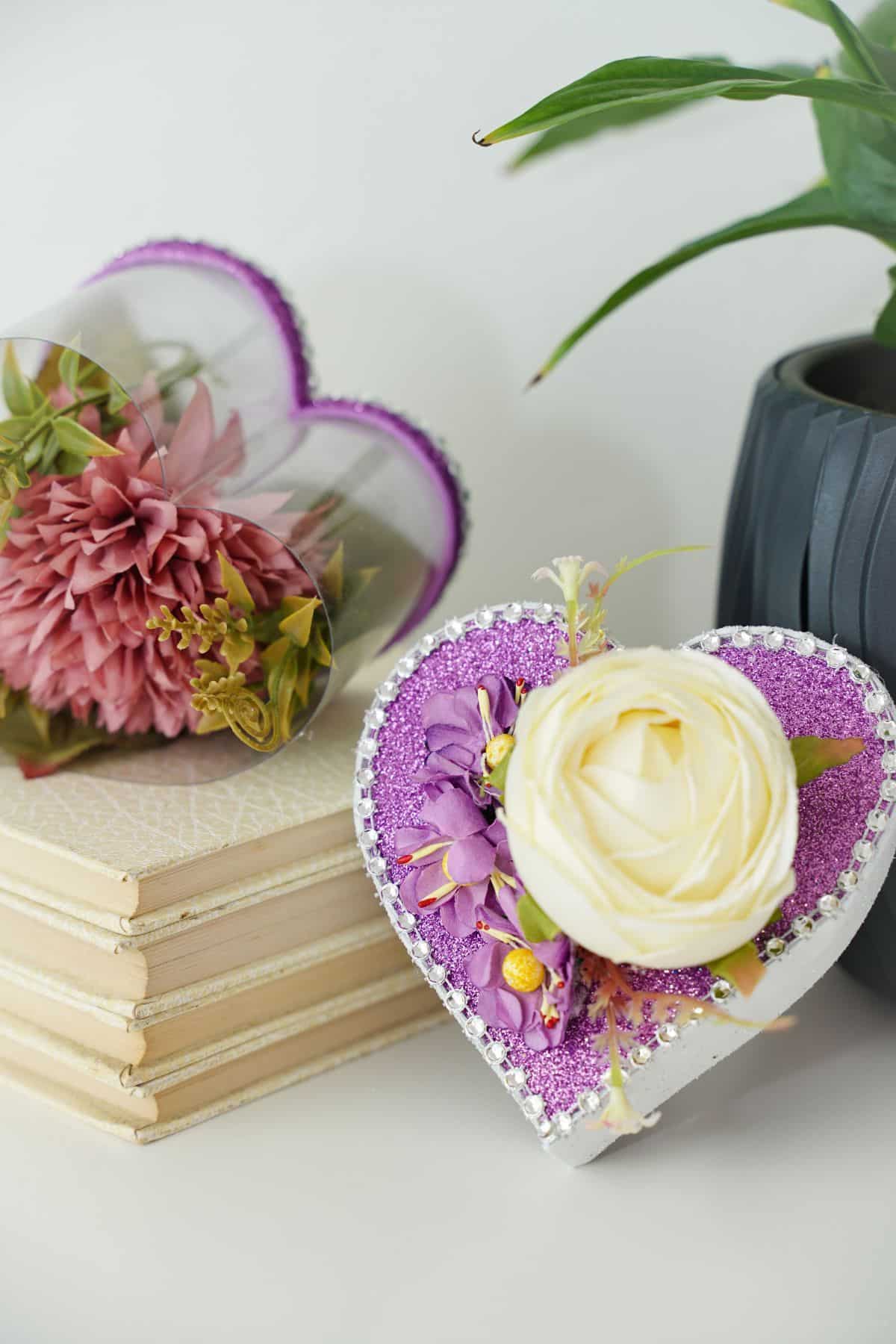 You can even use it as a jewelry box if you want.