*This is a sponsored post in collaboration with Tuesday Morning. All thoughts and opinions are mine alone.
HOW TO MAKE THE PERFECT BED
As we settle into our regular routine this fall, I like to give a little love to a room I use a lot in the form of a mini makeover! This fall, I chose to give a mini makeover to my bed with one of my favorite stores–Tuesday Morning–they have the best deals on high quality bedding, home décor, and furniture! So let's go shopping and I'll share with you all my tips and tricks for finding the best stuff, and show you how to style the perfect bed!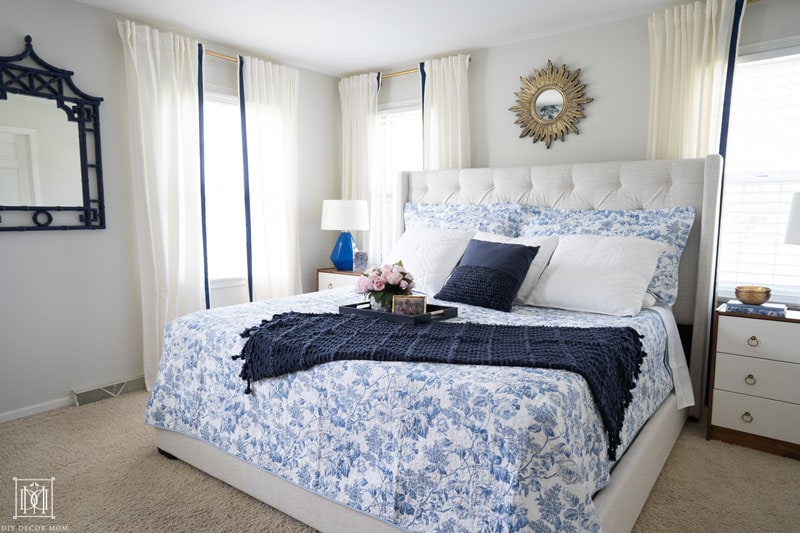 LET'S GO SHOPPING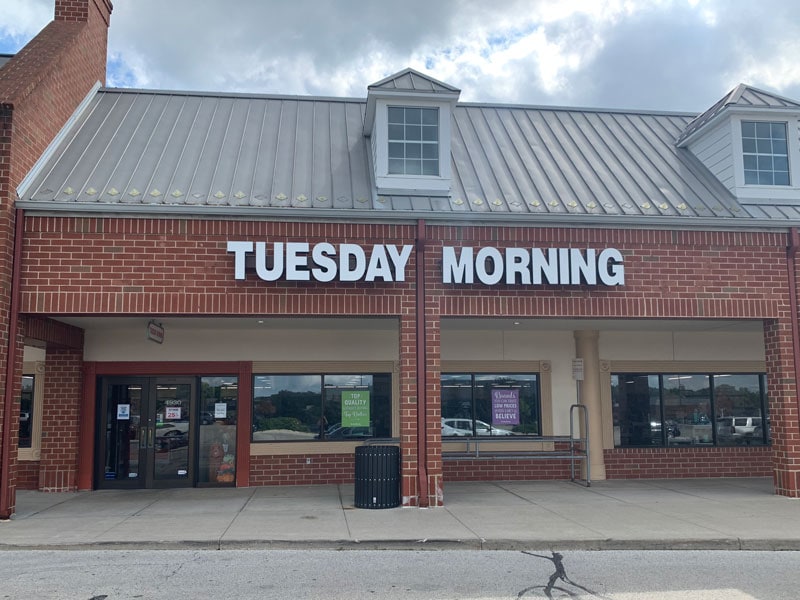 The first thing I always do when I go into a Tuesday Morning is look at the displays in the front of the store–you can find so many great deals on accessories here, and you never know what treasures you're going to find! I know you already know about my love for blue and white but these vases and faux orchids would look good everywhere!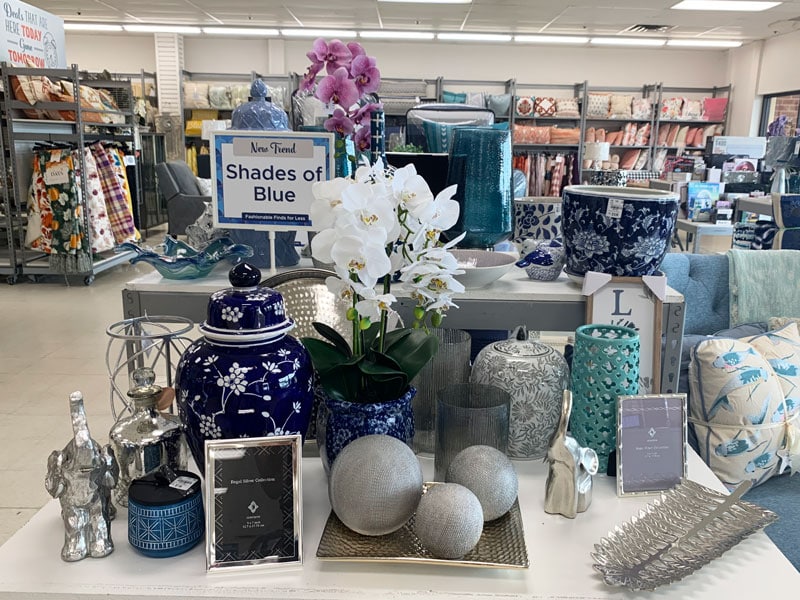 Once I've used the front of the store, I head to the aisles to find what I came in for…new bedding! Tuesday Morning is a great place to get your bedding staples as well (mattress protectors, pillows, pillow protectors) as well as all the fun stuff like throw pillows, bedding, and accessories.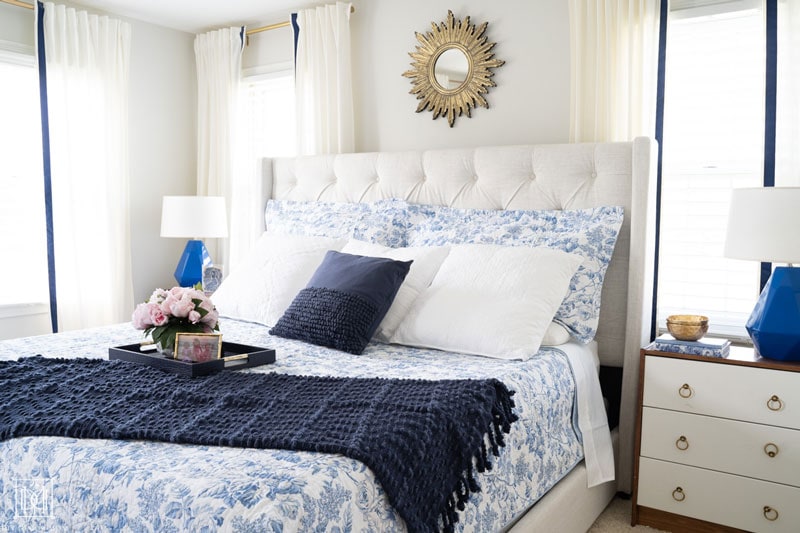 NEW SHEETS
We spend about 1/3 of our lives in bed, so I want the best sheets! Luckily, at Tuesday Morning buying high quality sheets doesn't have to be expensive! These are all name brand sheets that you can get huge savings on. Products at Tuesday Morning are always 20-60% off what you would pay at department stores.
When buying new sheets, I always look for white (easy to bleach), 100% cotton, and a thread count of around 300. To keep my sheets white, I wash them regularly and use a special laundry detergent that has an oxygenator to brighten up my whites.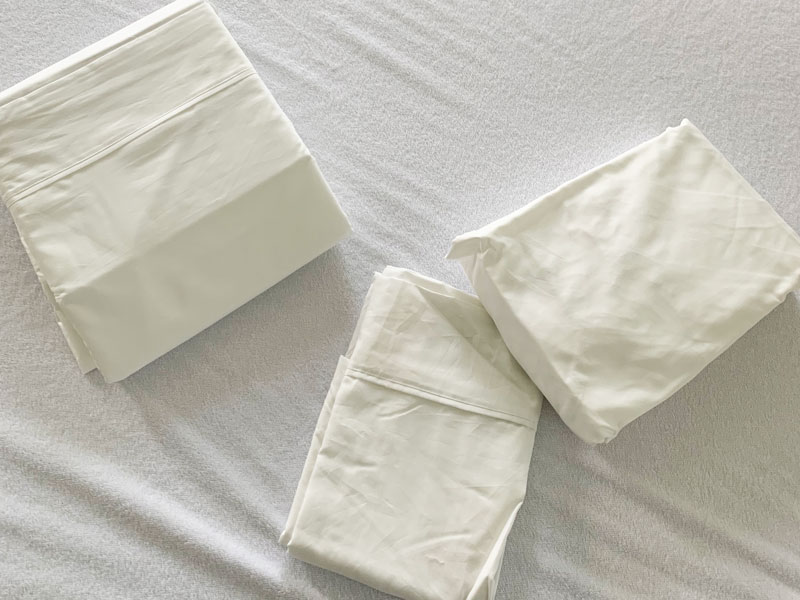 NEW COTTON BLANKETS
I'm a hot sleeper! While I love being under covers (and have to sleep under covers) I am a furnace! So I wait until November to switch to fleece blankets. From May-October, I love using 100% cotton woven blankets on top of our top sheets. Tuesday Morning has a huge selection of blankets for your bed and you can choose whatever color you want! I just like sticking with whites!
QUILT
Above the cotton blanket, I love having a quilt. Over the years, I've had great luck finding plain white quilts from Tuesday Morning; but, today I wanted to add a bit more color to my room, so I was thrilled when I found this beautiful floral quilt! It has the perfect combination of colors for our room–all the shades of blue balanced with some white! You won't believe what I paid for this quilt–$39.99 for a king size set that came with two standard sham pillowcases! Seriously, the savings at Tuesday Morning can't be beat!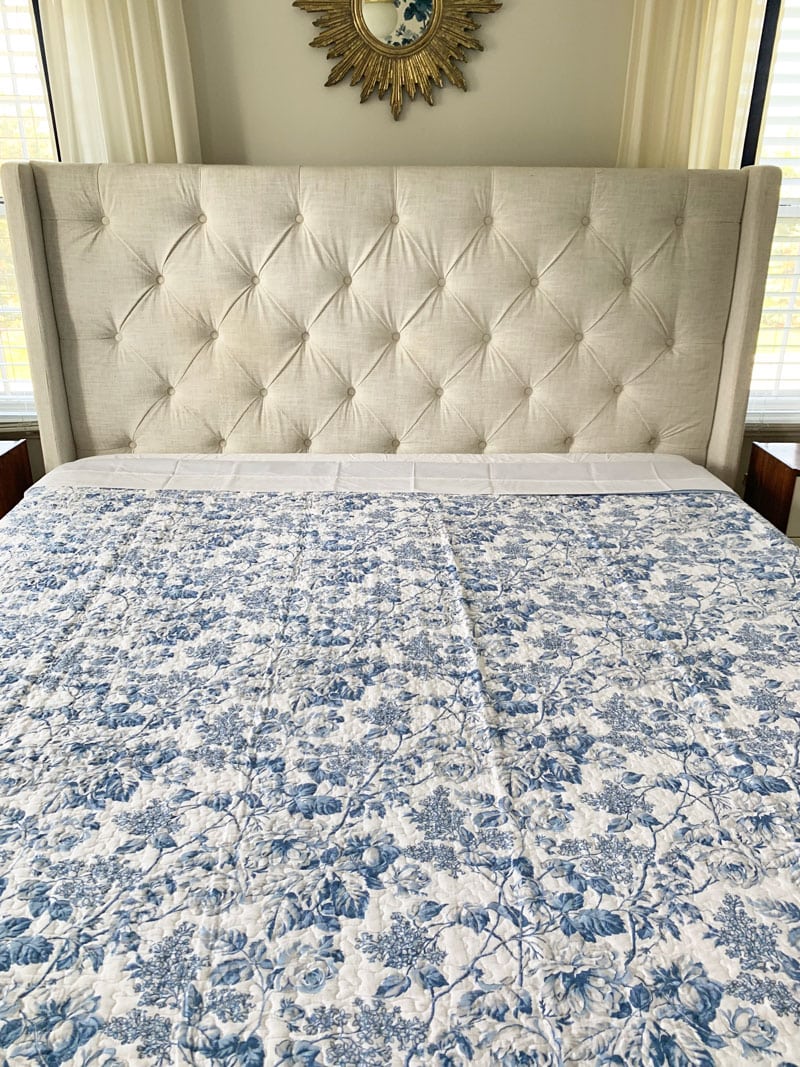 PILLOWS
Tuesday Morning is a fantastic place to buy your pillows! I have purchased countless pillows over the years from Tuesday Morning because I can score great savings on them; but, also because it's so much easier than shopping online and guessing what density pillow you want! Nothing can replace getting to feel the actual pillow! For a king size bed, I recommend two king size pillows for sleeping on, two king size decorative pillows, and three euros. Don't forget your pillow protectors–covering all those pillows can seriously add up, which is why it's best to buy them from Tuesday Morning where you'll save a ton!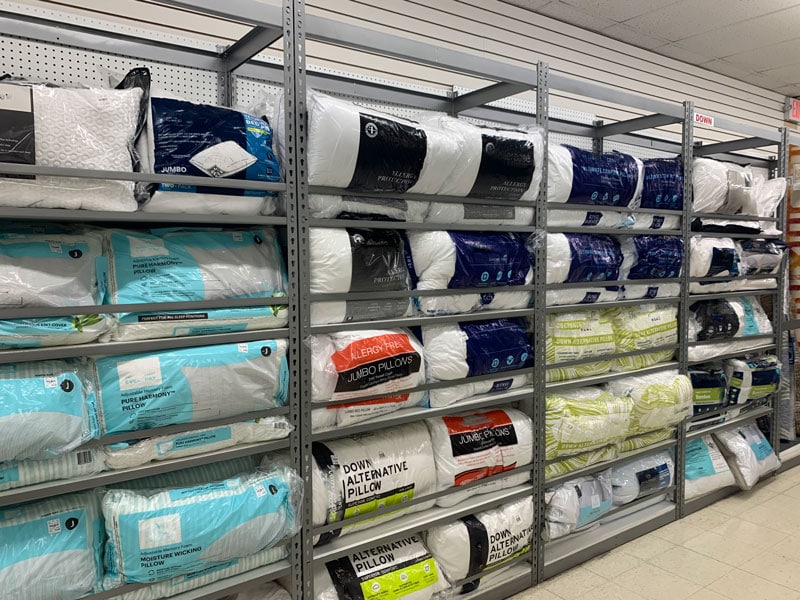 I was thrilled when I found these euro pillows–I grabbed two packs of two, and would use three on the bed, so I'll just have one extra. But at the price point ($29.99 a pair, the deal couldn't be beat!) Our bed is a king size bed, so I'd recommend using three euro pillows; but, if you have a queen or a double, you'll only need two euros (and one for a twin.)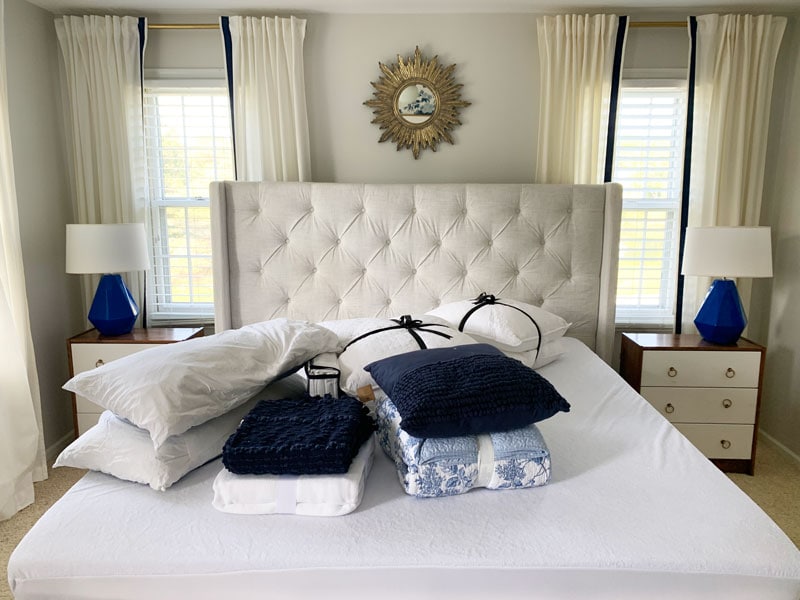 THROW BLANKET AND THROW PILLOW
Both the bedding section and the front of the store have a fantastic array of throw blankets. Having a throw blanket at the end of your bed looks great and is very functional. I like to make my bed the first thing in the morning; but, I will often read or work upstairs in my bedroom, and I'll curl up under a decorative throw then. While I like everything else on my bed to be 100% cotton, I just look for the softest throw blanket I can find.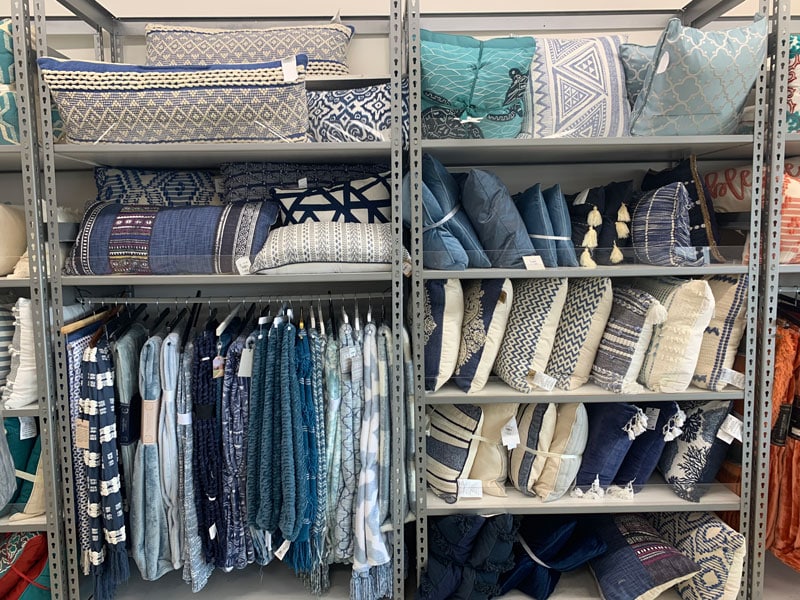 Tuesday Morning also has a huge selection of throw pillows. I like using either a small 20″ x 20″ pillow like what I used or a bolster. When I saw this fun navy blue pillow peeking out from the shelf, I knew I had to have it–the knobby details are coastal without being too nautical and add a nice touch of texture to the design scheme and it ties in nicely (without being too "matchy-matchy" with the throw blanket.)
It was hard to choose between all the great throw blankets, they're all such good deals! But, I always go back to the trick of laying out all my choices either on the floor or arranging them in my cart so I can see everything together. You can see how I did this below. The french blue throw would have looked lovely too–and picked up the french blue in the quilt, but I ultimately went with the navy for consistency.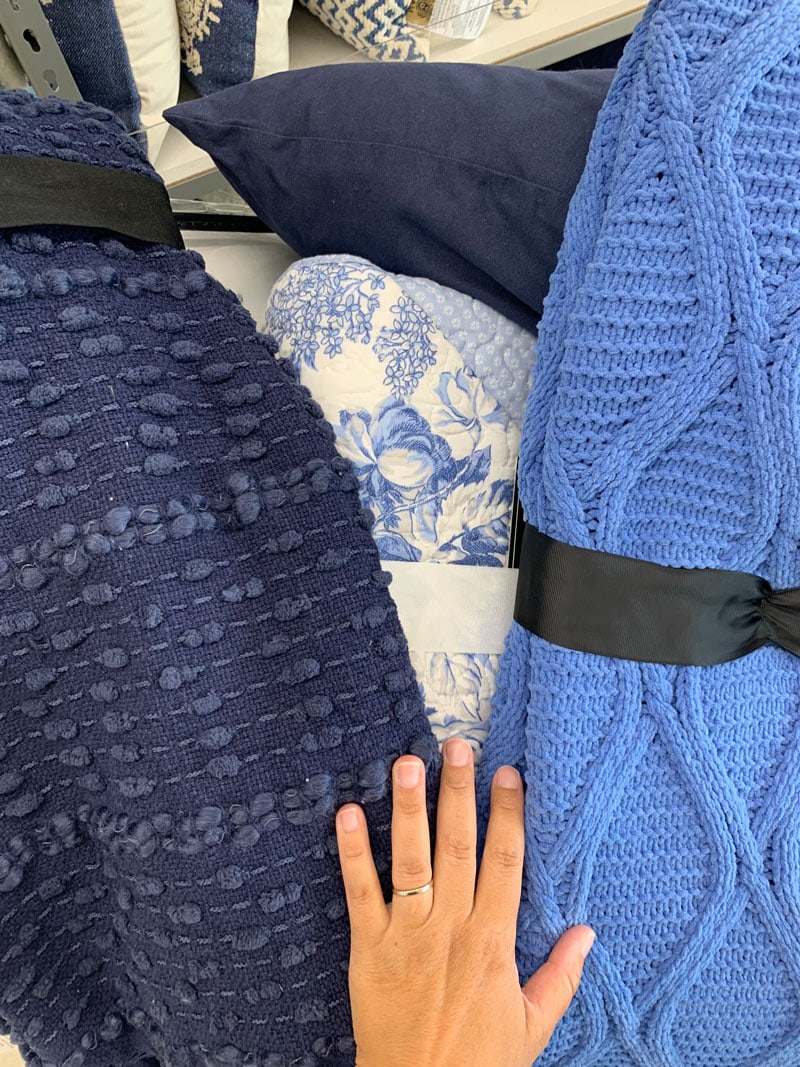 HOW TO FINISH THE LOOK
I already had bedside tables, lamps and mirrors, but I loved this bench I found and this bedside table. I would easily have paid twice what was marked on the tag! Tuesday Morning has a fantastic selection of furniture at prices that can't be beat!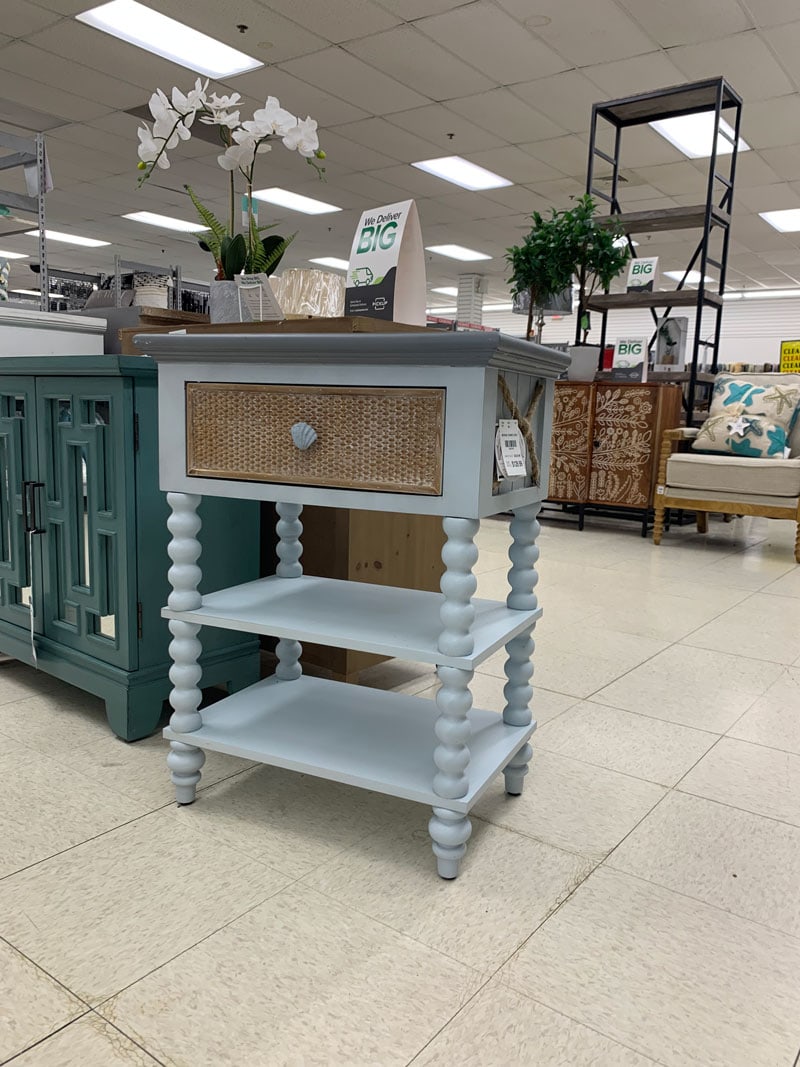 I also found this chic blue faux alligator tray and ended up taking it home as well–it's perfect for styling on a coffee table, or your bed–just throw a vase of fresh or faux flowers on top and you're set!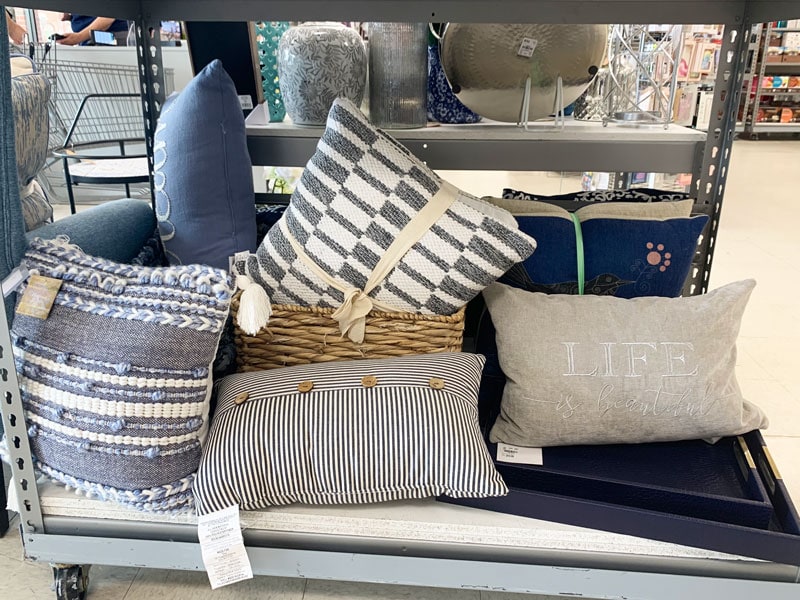 This bench really had me questioning how much I could fit in my car, and I definitely would have taken it home if it hadn't meant to uninstall the four children's car seats (the kids were all home with my husband so I could enjoy a little mommy time shopping by myself–my kind of self care!) It was on sale for $149–I would have happily paid double for it! It would look lovely in any bedroom at the foot of the bed!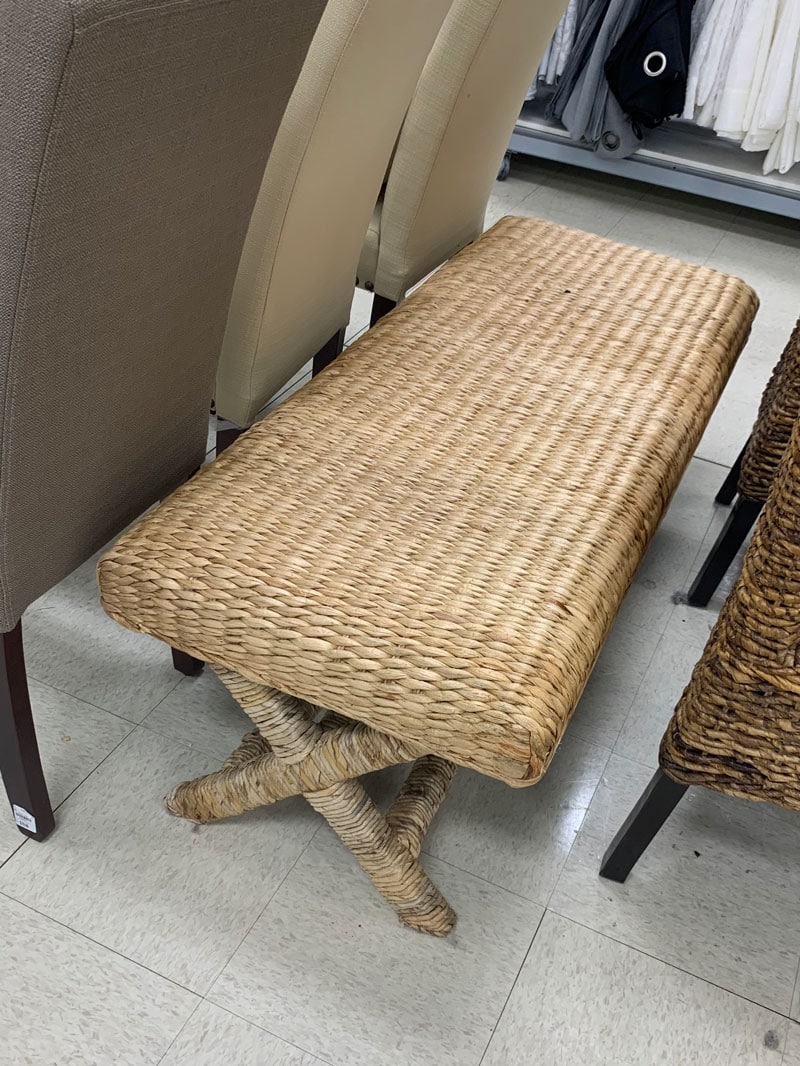 Then all you need to do is check out and load your scores into your car! You can see I bought an entire cart full of stuff and only paid $268 which is insane for outfitting an entire king bed from the sheets to the decorative pillows!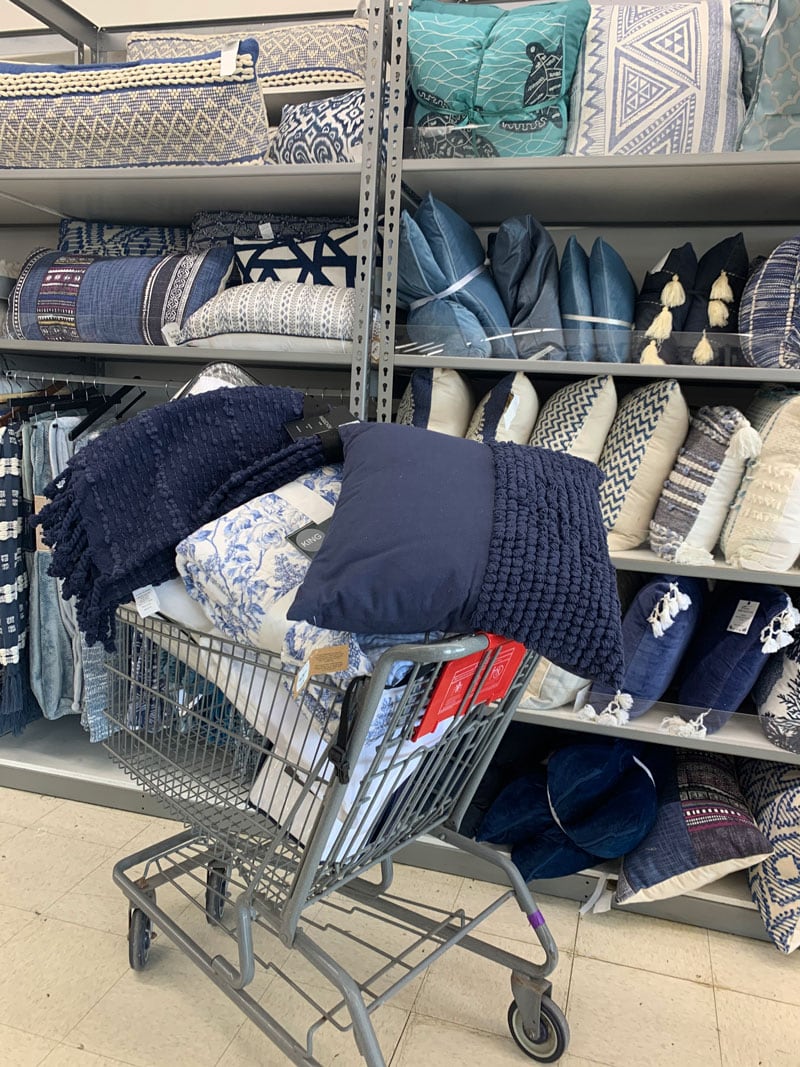 Here's a summary of what I took home for a total of $268 with taxes:
(2) packs of 2 euro pillows ($29.99) each
(1) sheet set king size ($39.99)
(1) quilt with two standard shams ($39.99)
(1) cotton blanket king size ($39.99)
(1) decorative faux alligator tray ($19.99)
(1) decorative throw blanket ($29.99)
(1) decorative throw pillow ($19.99)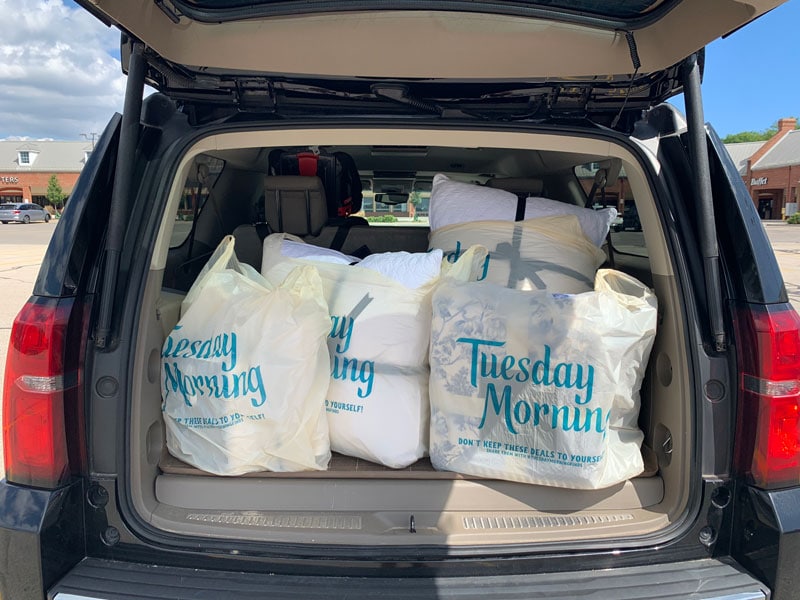 PULL IT ALL TOGETHER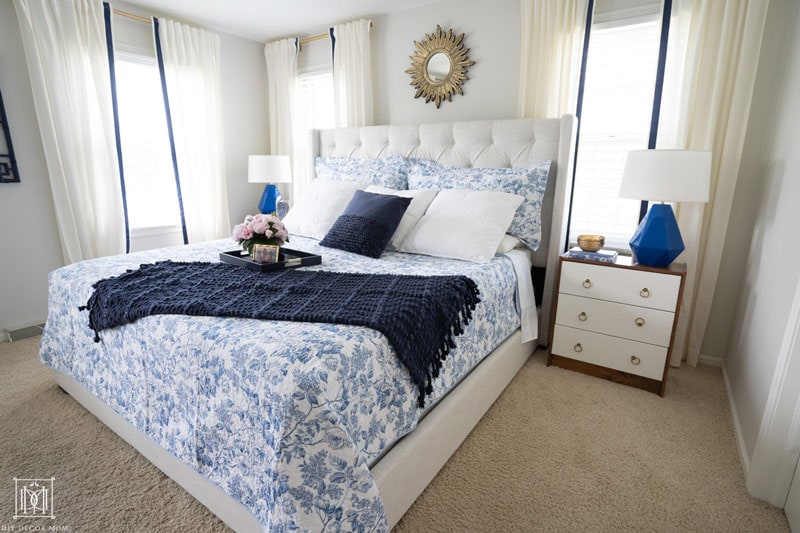 So how do you pull it all together and make a stylish cohesive bed?
For any room, I like to have a mixture of solids, patterns and textures. We have solid white euros, a solid blue throw blanket and pillows that have varying textures to keep it interesting, and the quilts and shams have an elegant floral motif. All of the elements reference each other–the navy blue solid throw and pillow tie in with the navy blue ribbon on the curtains; the bright blue lamps coordinate with the deeper blue of the floral quilt, and the white euros tie in with the curtains creating a beautiful vignette.
You can see I added the tray I found on Tuesday Morning, and some decorative accents I already had. Putting a vase of flowers either on your bedside table, or on a tray is always a nice touch. I then added a favorite photo I have of our kids which picks of the gold in the mirror above the bed, and the gold bowls on the bedside table.
FORMULA FOR THE PERFECT BED
To make the perfect bed, you'll want to lay out everything you got and then start with the basics–making your bed with sheets, a blanket, a quilt, and then you can get to styling the pillows and blankets.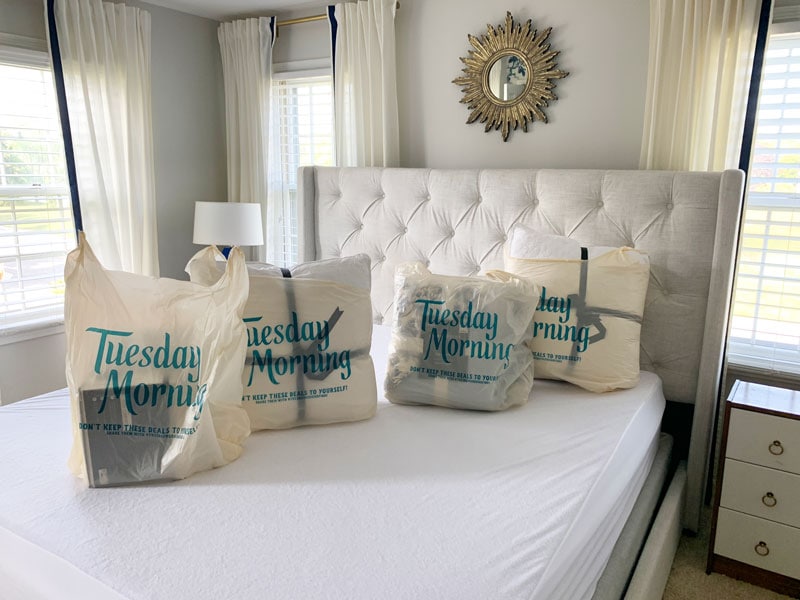 Here's what I recommend for making the best bed:
mattress protector
100% cotton sheets (flat sheet and fitted sheet)
cotton blanket (or fleece blanket for winter)
quilt or matelasse
decorative blankets
2-3 euro pillows
2 sleeping pillows–2 kings for a king size bed, or 2 standard pillows for queen and double
2 shams–2 kings for a king size bed, or 2 standard pillows for queen and double
1 decorative pillow (either a bolster or one 20″x20″)
pillow protectors for all pillows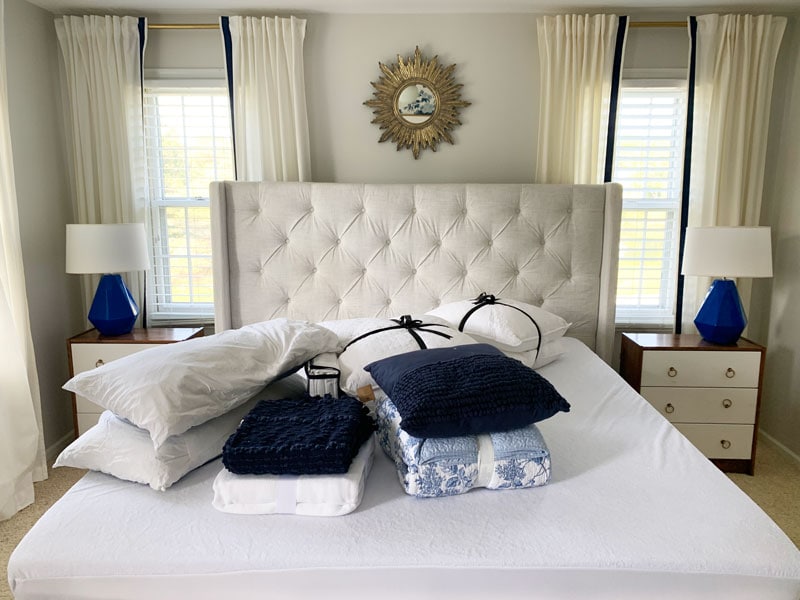 STYLING PILLOWS
Usually, I like putting the king size shams in front of the euro pillows but I wanted to create a band of white with the euro pillows, so I rested the king shams on top of our sleeping pillows so you could see their pretty pattern.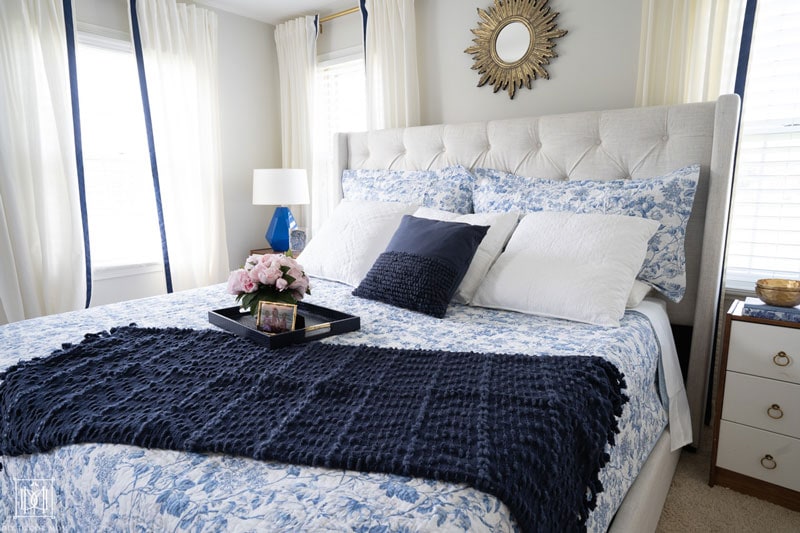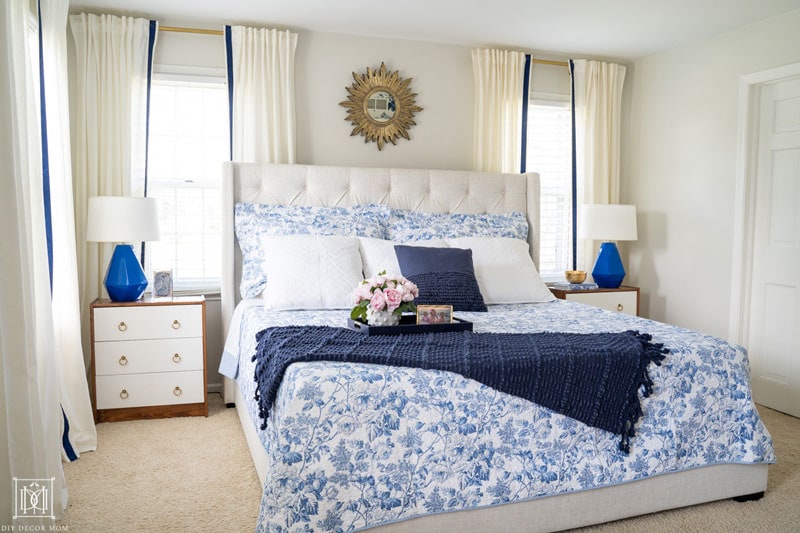 DECORATIVE THROW BLANKETS
You can fold the throw blanket either in half and place it diagonally across the end of the bed like I did, or you can fold it neatly and have it run perpendicular to the end of the bed and look very orderly. Either style looks great!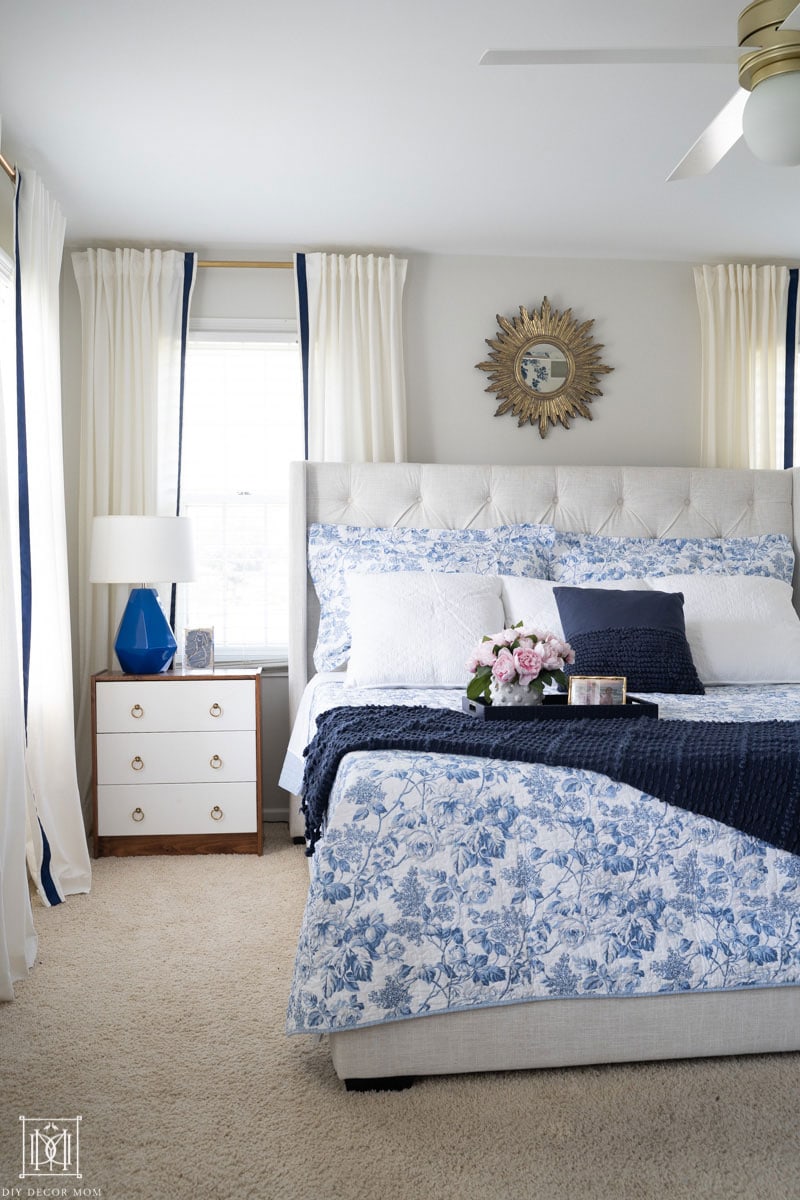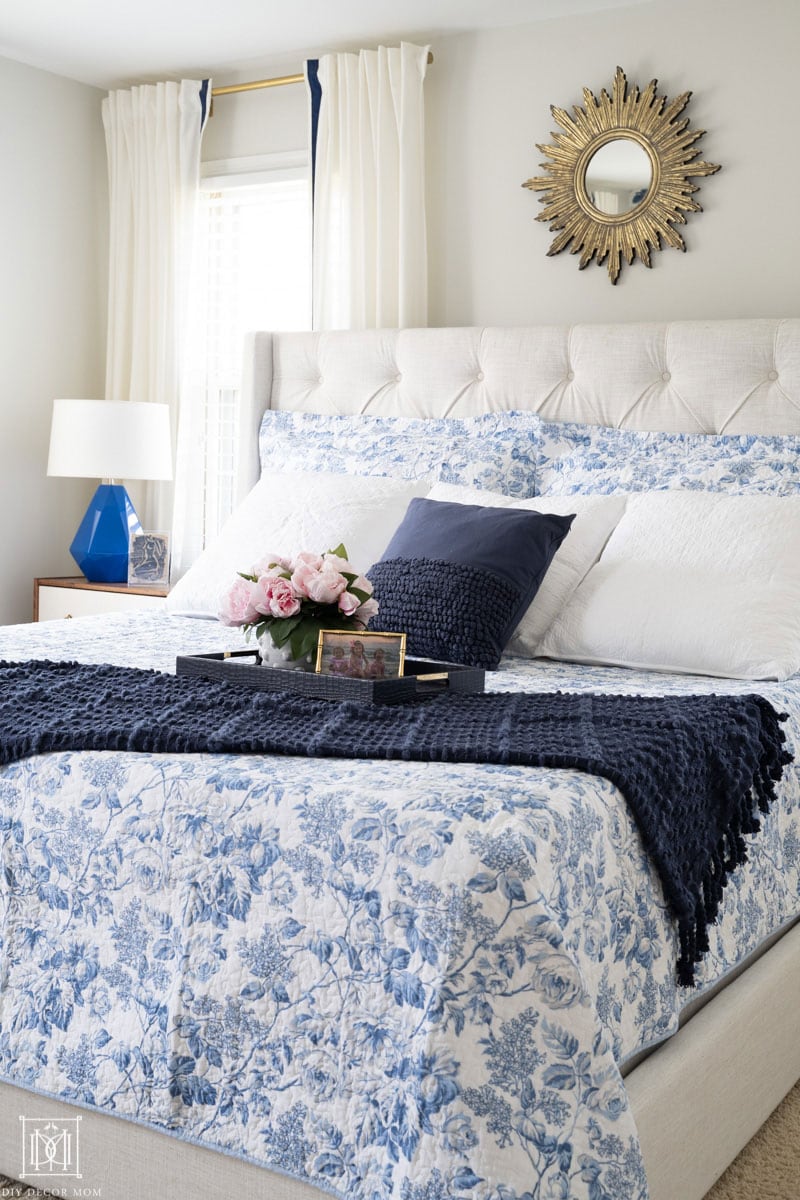 In conclusion, to create a bed you love isn't hard or expensive when you shop on Tuesday Morning! They have everything you need to make a luxurious bed with savings you can't beat! And I promise you, once you start going and finding all the treasures like I did, you'll want to go back more to see what you can find next week!