A well-organized bedroom is one of the best ways to ensure you have a neat and tidy room to end your day and relax into sleep. But getting it to this point isn't always easy.
Maybe because it's so simple to close the door and ignore the mess rather than committing to a weekend spent organizing your bedroom. O,r perhaps it's because so many of us are guilty of going overboard with clothes and shoes.
Whatever the cause, it's not uncommon to feel like you constantly have a messy bedroom. Worst of all, this could seriously affect your sleep quality.
How to organize a bedroom with too much stuff
Luckily, it doesn't have to be this way. We turned to some of our favorite experts to find out their top tips for organizing a bedroom and creating a clutter-free space that's full of zen.
Here's what they had to say.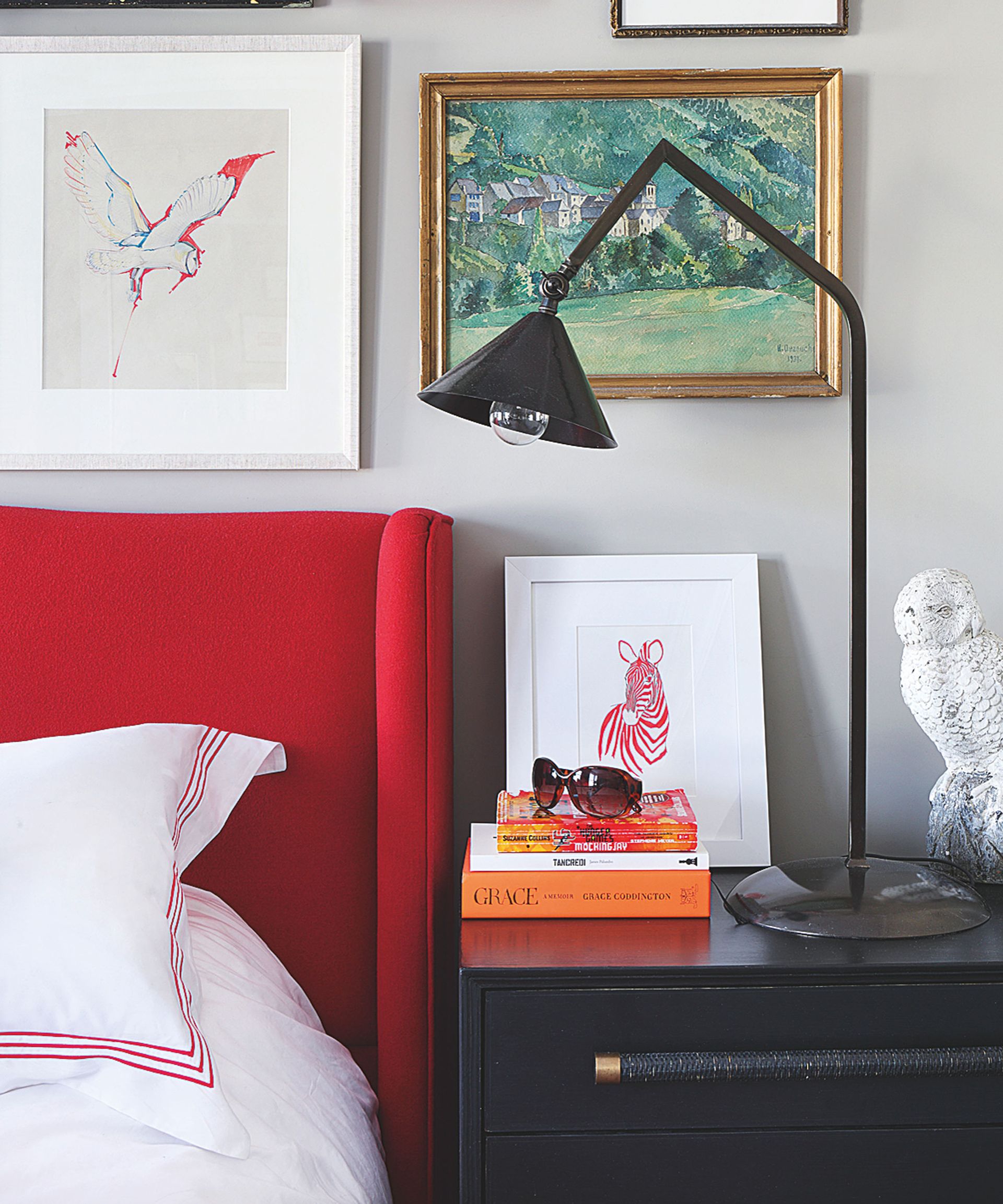 Step 1: Visualize a calm, organized space
According to Meredith Goforth, professional organizer and founder of House of Prim, the very first step to organizing your bedroom doesn't even need to happen in your bedroom. Goforth admits that the hardest part is getting started, so consider this step the easiest way to launch yourself into bedroom-organizing success.
'Before you do anything, the very first thing I recommend is taking a moment to envision the space that you want for yourself and your new intentions for it,' says Goforth. 'What do you intend to do in space? How do you intend to feel here?'
Don't rush this process, either. Take your time really thinking about what you want from the room, and then when you're ready, you'll know what needs to be done. Goforth assures us it'll be even easier now that you've imagined your ultimate goal.
'As soon as you start visualizing your bedroom as a sanctuary, a space where you feel completely at ease, any aspects that currently deviate from that ideal become more easily apparent,' she says. 'I think when organizing any room, it's easy to get tunnel vision and forget that you can move things out of the bedroom into other areas of the home.'
Meredith Goforth has a passion for stylish organizing. Before founding House of Prim, Meredith was a Bookings Editor for magazines, where she planned, produced, and executed cover shoots and fashion stories, making sure every detail was picture perfect. A former New Yorker, she now lives in Westport, CT with her family. With three boys being born within three years of each other, and having moved house six times in five years, Meredith says the only way to stay sane was to become truly organized.
Step 2: Remove everything that doesn't belong in your bedroom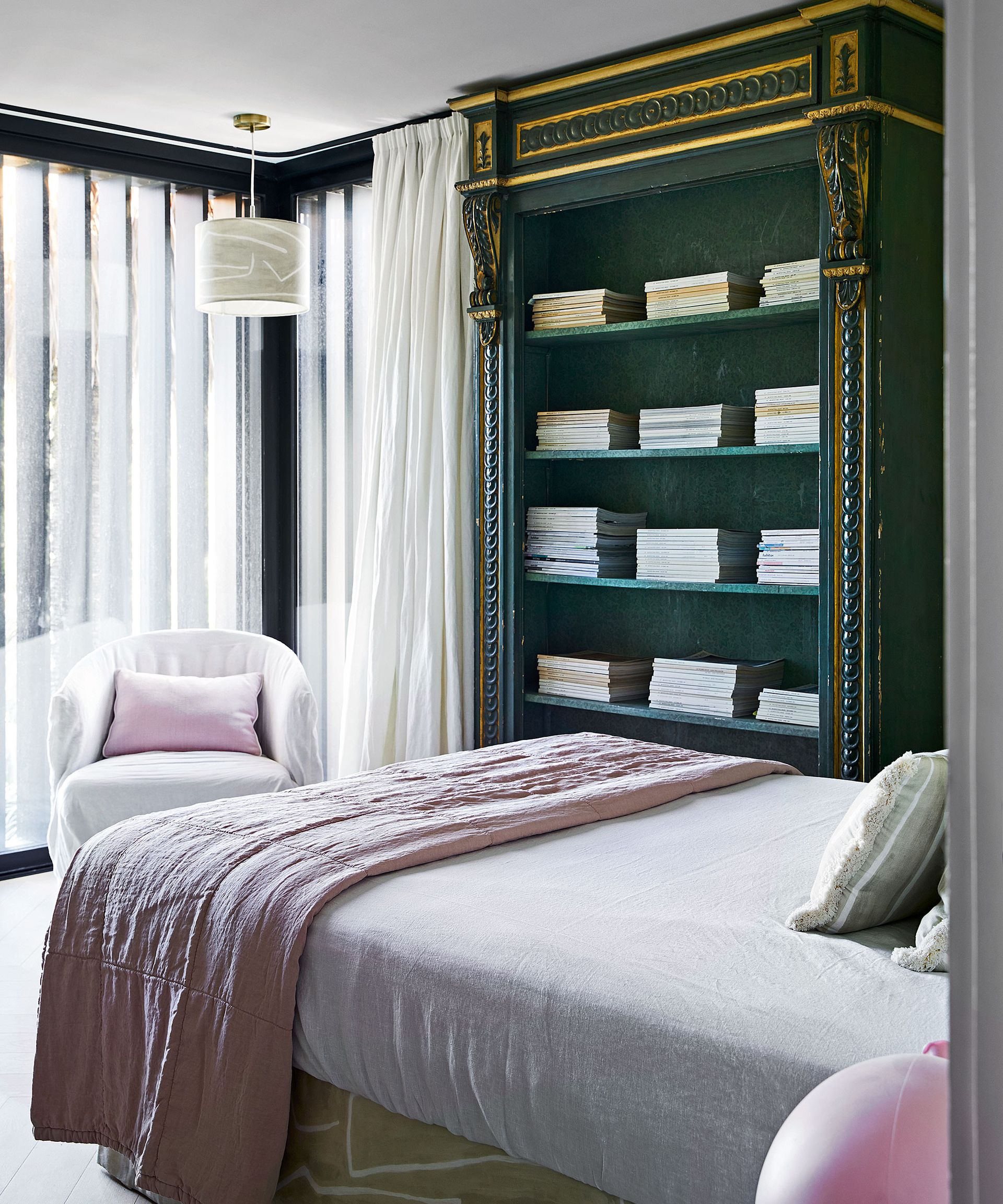 One of the biggest problems Goforth noticed is that many bedrooms often become a sort of multi-purpose room. This is hugely counterintuitive to create a comfortable and relaxing space and is certainly not going to help you sleep better. It also happens to be one of the first things Goforth suggests sorting out before you organize anything.
'If your bedroom is currently doubling as an office, a laundry room, or even a home gym, the first task at hand may be to implement solutions in other areas of the home to move those stressful activities out of your sanctuary!' she says.
Once you have found a new home for non-bedroom items, invest in some great bedroom storage ideas to make it easy to maintain a well-ordered space.
Step 3: Separate things into keep, donate, or trash
Before you fully start organizing, it's a good idea to declutter. Unfortunately, this step can be time-consuming, overwhelming, and in some cases, downright depressing. The most common issue is difficulty in knowing what to keep and what to get rid of.
Luckily, Amanda Wiss, founder of NYC-based home organizing company Urban Clarity, gave us her method. But first, she told us it's okay if this process feels overwhelming – it usually is!
'This is very personal. What feels sentimental and special to one person can feel like trash to someone else,' says Wiss. 'Everyone has unique reasons for being attached to certain items.'
So, keep this in mind as you work, and don't feel pressured to get rid of the things you know in your heart you really want. But once you're ready to start decluttering your bedroom, Wiss suggests working in sections and going through each item, physically placing them in five different categories.
"The first is to keep and put back out, the second is to keep but put away or store," said Wiss. 'The third pile is trash, and the fourth is donate. Fifth is the maybe pile. Do this quickly and just go with what instinctually comes to you when you look at or touch each item.'
Wiss suggests then going through the maybe pile a few times, paring it down as you go. 'When seeing all of these items next to each other, it generally becomes very clear what is the appropriate thing to do with them and you don't waste precious time hemming and hawing during your first pass,' she says.
Amanda Wiss is the founder of Urban Clarity, a home organizing company awarded NY Magazine's Best of NY 2023. She is also the founder of home staging studio Urban Staging, whose design-savvy team gets homes market ready, to intrigue brokers and buyers alike. The two companies work in conjunction to do full move management, getting their clients completely unpacked and beautifully settled, while minimizing stress.
Step 4: Edit your 'keep' pile
Goforth uses a similar approach to Wiss, but she calls it the 'Prim Process'. This focuses more on the items she is keeping that needs a home. After removing anything that's not meant to stay, Goforth edits down, contains, and labels.
As part of her edit process, Goforth says she first categorizes everything into piles by type. This is a great way to weed out duplicates or spot items you never really use.
'Decisions can be made more confidently when you know you have the full picture,' she said.
Step 5: Give everything you keep a home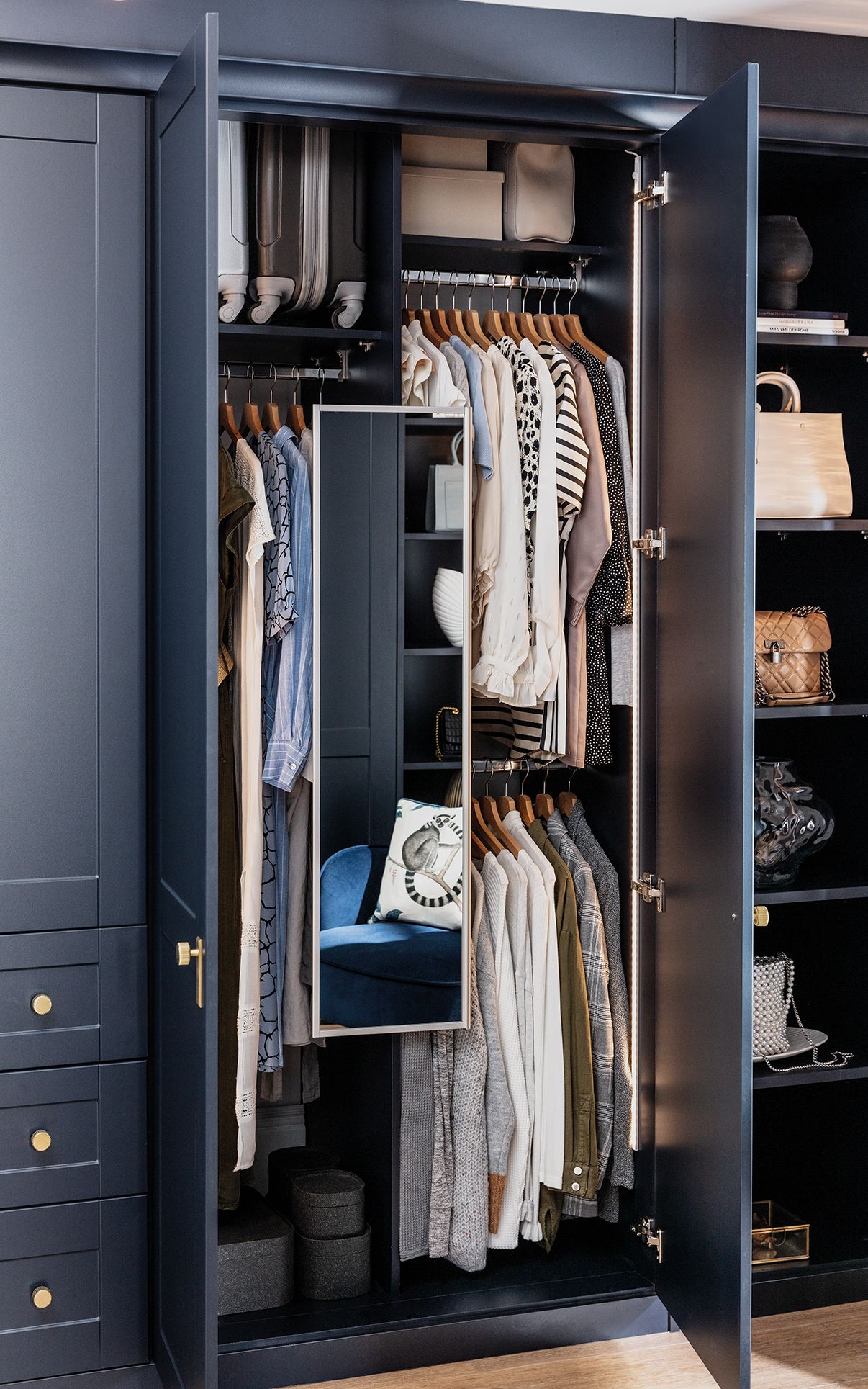 After you've gotten your stuff under control and you know exactly what you need to stash, save, or display, designer Breegan Jane says the next step is to put things away. No, don't shove things out of sight. Find homes for each item and truly put them away.
'Design areas for all your belongings,' Jane says. 'For example, when you take off jewelry, be sure to put it in your jewelry box instead of putting it on a dresser. Take advantage of square footage in smart ways.'
Breegan Jane is a TV host, designer, entrepreneur & philanthropist in Los Angeles. Breegan's signature style meshes the artistic and elegant with livable comfort. She achieves a stunning, modern aesthetic with a decor that maximizes elegance and fosters simplicity, serenity and supreme comfort.
Step 6: Create a cohesive storage system
One of the best ways to quickly and efficiently organize your room and give it a more uniform look is by adding a simple but streamlined storage system.
Breegan Jane also says this doesn't need to take up a ton of space. Simply measure your space in advance and make sure you buy baskets or storage bins that fit properly. And remember, the goal isn't to have a new place to shove your clutter, it's to create an organized system for all your things.
'Add baskets to your bedroom and commit each to a particular set of items,' she says. 'It's a great way to achieve organization without having to completely restructure a room.'
If your closet and drawers are hard to keep organized, try sock and underwear drawer dividers, at Amazon and stackable clothes organizers, also at Amazon. They make putting away clean clothes much easier, taking the hard work out of organizing your closet because everything has a home.
Step 7: Organize your bed
Ok, this sounds silly at first. What on your bed can be organized? As Jenon Bailie, design director for Room & Board points out, it's not so much about what's on your bed – it's more about what's not on your bed.
'For a zen experience in the bedroom, work with soft layers in your bedding,' says Bailie. 'Think blankets, throws, and accent pillows.'
By choosing a neutral palette for these items and keeping it as simple as possible while still maintaining the function, the centerpiece of your bedroom will automatically set the tone for a more organized space.
'Styling can dramatically impact the feeling in a room,' adds Goforth. 'Even once the clutter is removed, a space can still feel overwhelming if the styling and decorative choices lack cohesion and balance.'
Step 8: Use small trays for surface areas
While bedroom storage bins, baskets, and drawer inserts are all incredibly helpful for maximum bedroom organizers. Bailie says it's important to consider your surface areas, too, because they often need a different sort of organization.
'Edit your personal objects on top of your dressers and nightstands and leave only a few meaningful pieces,' Bailie says. 'Using small trays to organize your personal items, such as jewelry, will help you stay organized and clutter-free.'
Step 9: Rotate your closet seasonally
If your closet or dressing area is in your bedroom, then Gofroth says this is absolutely a must-have step for any true bedroom organizing session – and don't underestimate the power of rotating your closet seasonally.
'It keeps you mindful of what you have by creating space for visibility,' says Goforth. 'In the middle of the summer, your winter coats and thick sweaters technically qualify as clutter.'
This also doesn't mean you need to weed out items or toss or donate anything. Instead, look at it as a way to give your closet some room to breathe.
"Rotating your closet is the easiest way to remove clutter and create space, without even having to let go of items," says Goforth. 'I like keeping out-of-season items tucked in under-bed bins.' Save space when storing clothes away long-term by keeping them in vacuum bags, available at Amazon.
Step 10: Invest in multi-use furniture
If you are organizing a small bedroom, it's often recommended to buy furniture that can work double duty for you. But according to Breegan Jane, this is great advice for anyone who wants to design and maintain a more organized bedroom. And if you've gotten this far into the process and are still feeling disorganized, it might be something to consider.
'I love items like ornate ottomans that have hidden storage inside,' Jane says. 'They're a great way to bring in a bit of color and texture to a space, but also to keep things you need close by. Credenzas are also lovely for this reason. They're the type of pieces that offer so much visually but allow for that disguised storage we all need.'
As well as offering storage, a black, wooden credenza, at Anthropologie, will help to ground a room, and provides additional surface space for trays of decor pieces or a spot to rest makeup and jewelry organizers.
---
While this step-by-step guide is a great way to tackle your bedroom from the beginning, it's also something you can dive into at any point. So, if you feel like you have one specific problem area, start with that step and see how it goes. Hopefully, a restful night is on the other side.