Living Room Reveals: Today is the day! I know you all have been waiting to see the big reveal of our updated living room. I've been planning it for well over a year, and we've been actively working on it for the past two months–but it was worth the wait!
GRANDMILLENNIAL LIVING ROOM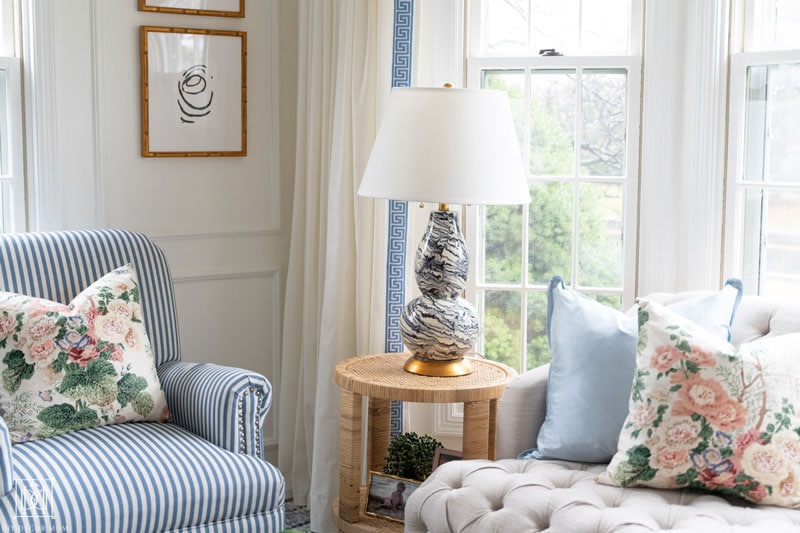 The style might be called "grandmillennial" by some, which is really just a trendy term for traditional style with modern touches–just my taste (also called "new traditional"). I've always loved classic design elements like chinoiserie panels (I've been looking for affordable ones for over six years,) Chippendale chairs, greek key curtains–I made the originals six years ago, and ginger jars (I started collecting them about six years ago when we moved here.) But it's nice to see that traditional style is finally coming back–and I prefer it so much more to the omnipresent farmhouse aesthetic that's been so en vogue in the past five years.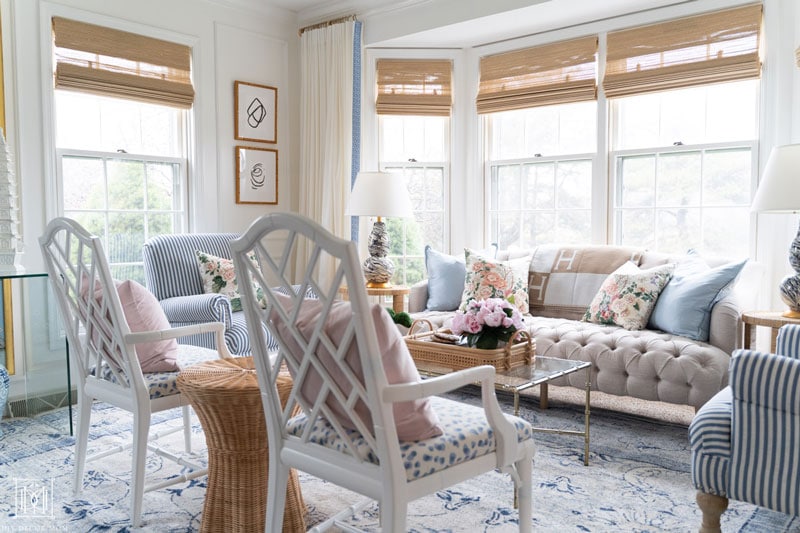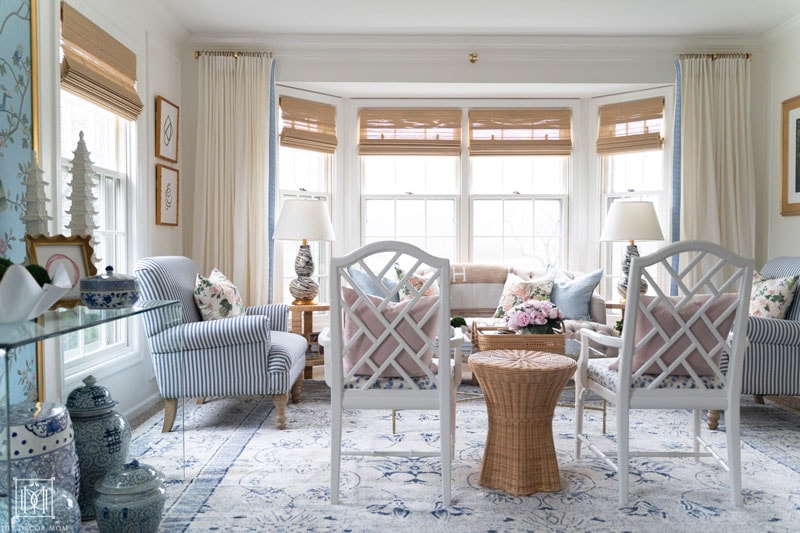 *This post contains affiliate links at no cost to you. See my disclosure policy here.
DIY PROJECTS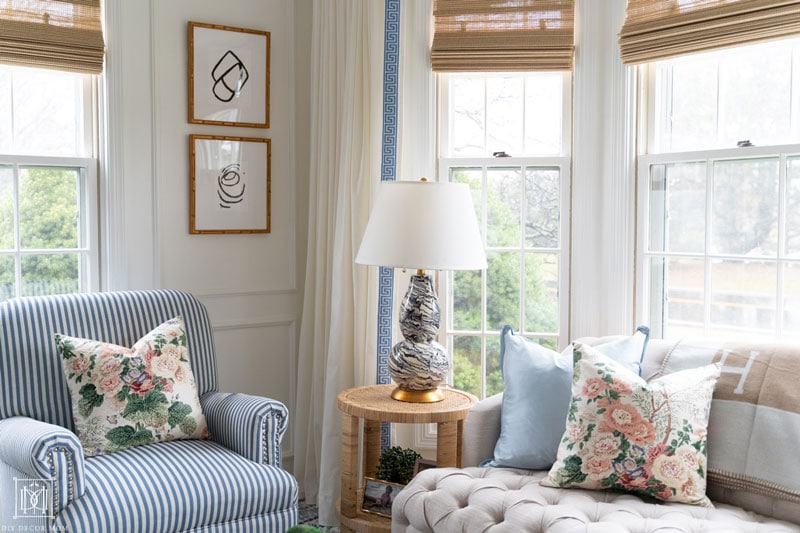 Like all of our room makeovers, 99% of it is DIY projects. We do this because we love DIYing and it's budget-friendly. My husband is a mechanical engineer by trade, so he is definitely handy; but, nothing is too difficult that a normal DIYer couldn't do himself. We are working on tutorials for each project; but, I wanted to outline them below.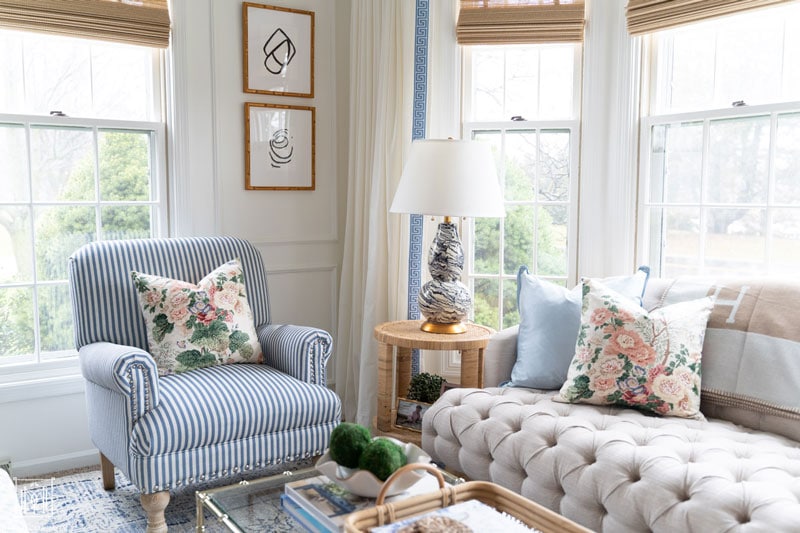 DIY PROJECTS:
DIY Framed Chinoiserie Panels
DIY Lucite Curtain Rods
DIY Picture Molding Walls
DIY No Sew Curtains
The Best Affordable Bamboo Blinds
DIY Chippendale Baby Gates
DIY Refinished Chippendale Chairs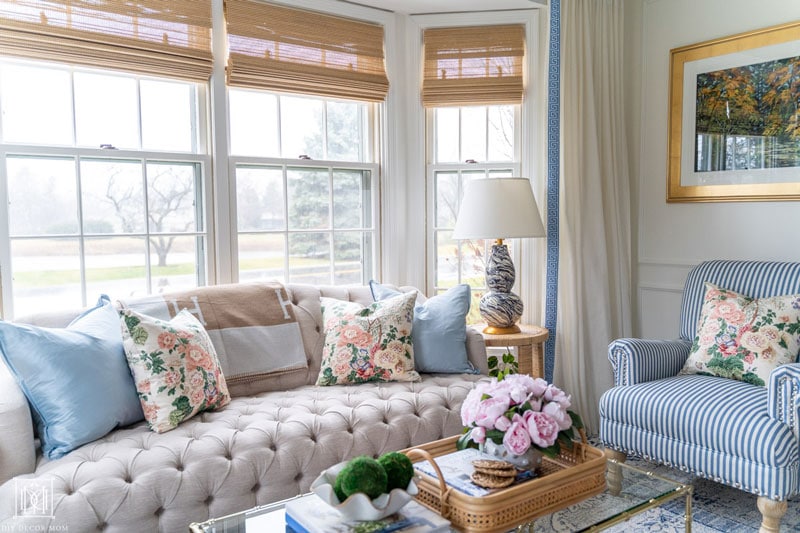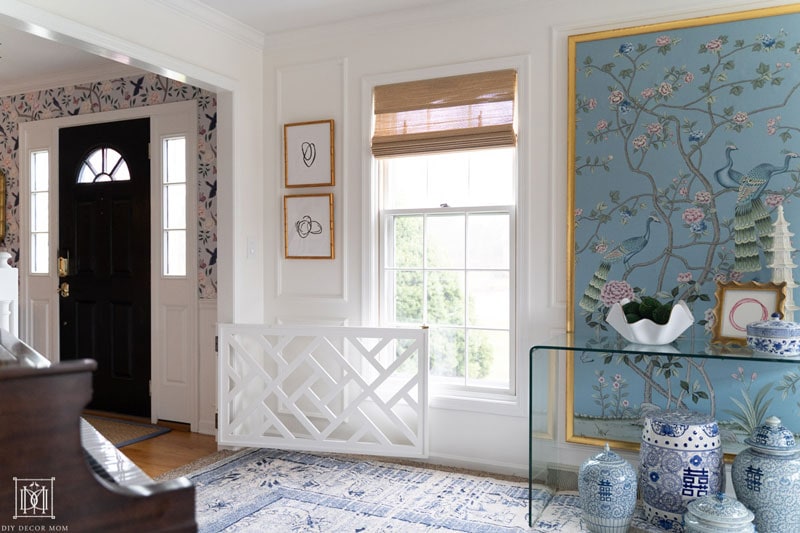 We also used several DIY projects we've done in the past five years:


WHITE WALLS
Previously, the walls were Benjamin Moore Balboa Mist which was beautiful; but, I was ready for a change and wanted a more polished look with paneling. I'd always loved BM Chantilly Lace so it was an easy choice when I had the opportunity to change it. We used semi-gloss on all the trim and satin on all the walls in Benjamin Moore's Aura line.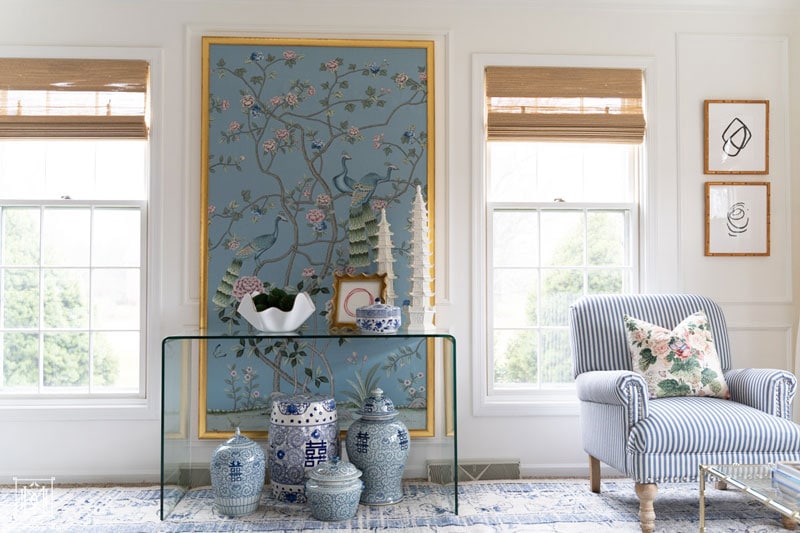 Related: See the 20 Best White Paint Colors for Your Home here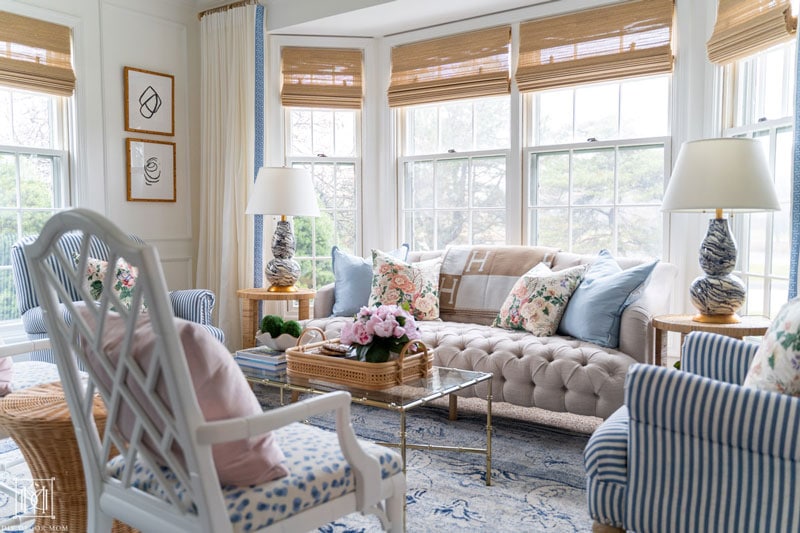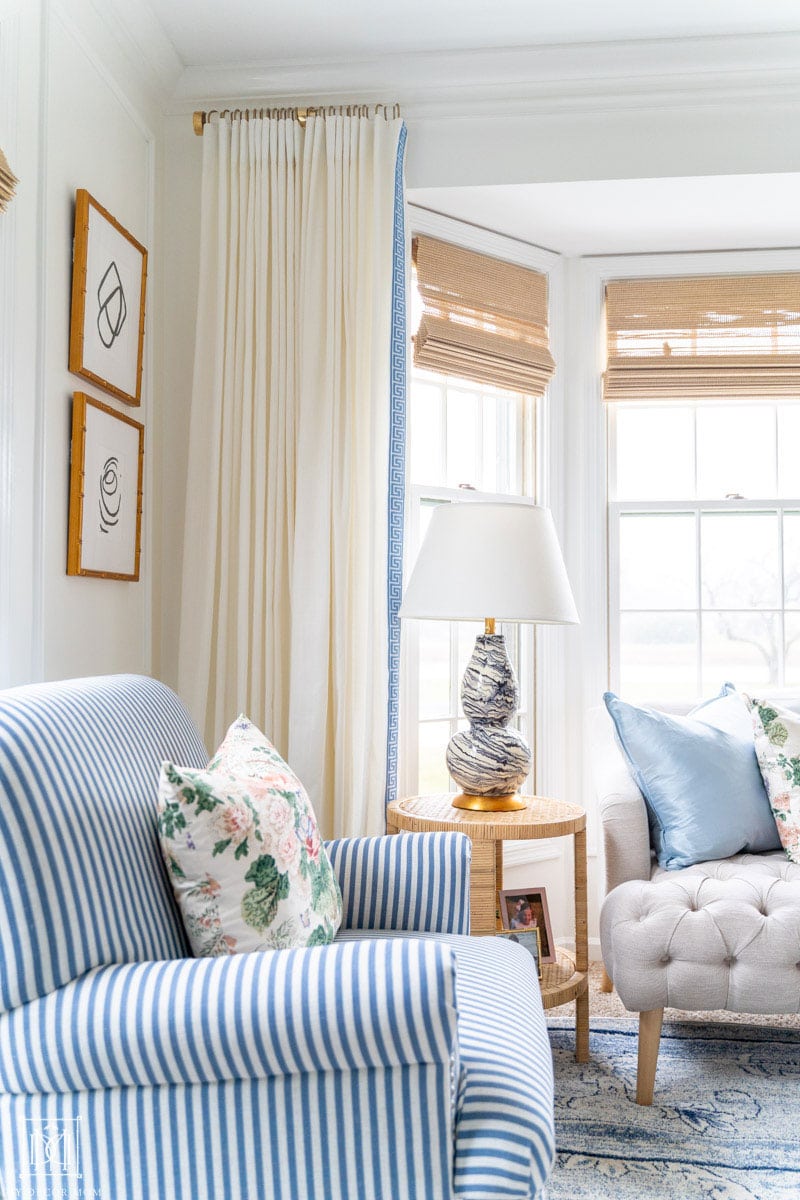 AFFORDABLE BAMBOO BLINDS
We already had two bamboo blinds on the front-facing windows (we scored them on clearance for $1.47 a window) but the bay window was shadeless. I'd always wanted to add shades to that window but knew that I would need to replace all six of them at the same time to ensure they would match. When I finally found these affordable and cordless blinds, I was hesitant because I wasn't sure they would be of good enough quality–but they are fantastic and a steal for the price!
NEW FURNITURE AND LAYOUT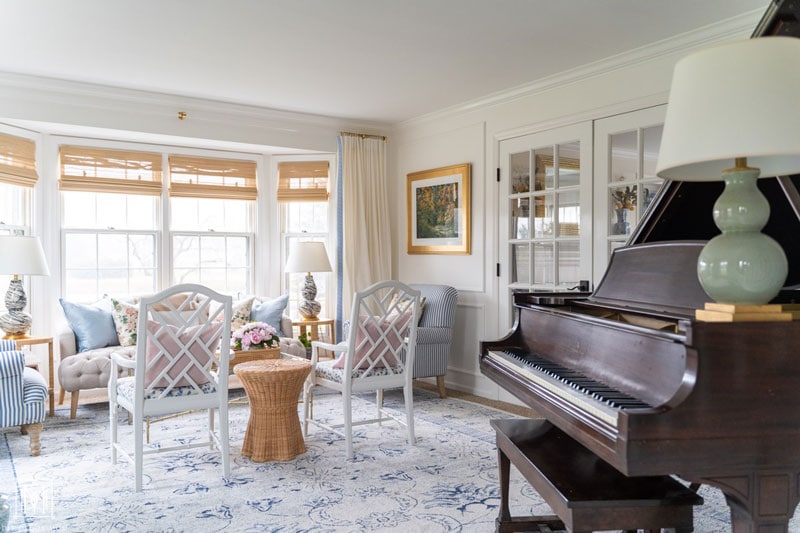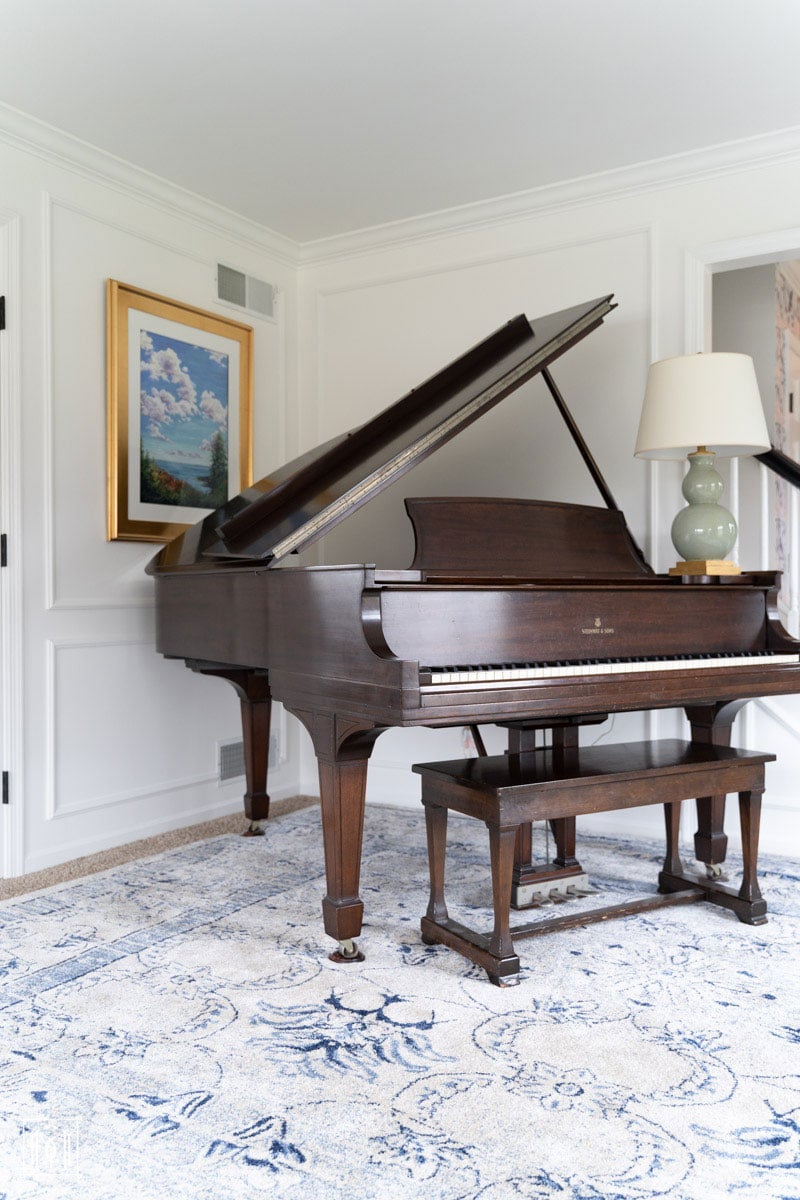 This room has always been a struggle for me because of the layout. On one side, we have my husband's family's heirloom Steinway piano from the 1920s. The French doors were always open previously which allowed for an open traffic flow (aka kids running through the living room constantly and a Great Dane trying to bark at poodles out the window) so we always had a huge baby gate running through the center. By closing the French doors and eliminating the traffic, it opened up the layout to different possibilities and it is so much better! We no longer need to worry about Ella, our Great Dane, getting on the couch because we have one baby gate. I also don't need to worry about the kids hurting the piano because it's behind a gate (and they're only allowed to go in there with permission.)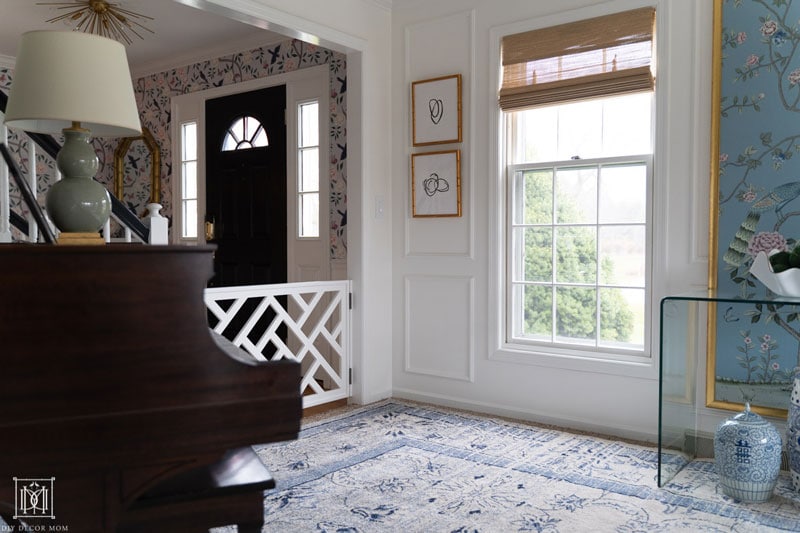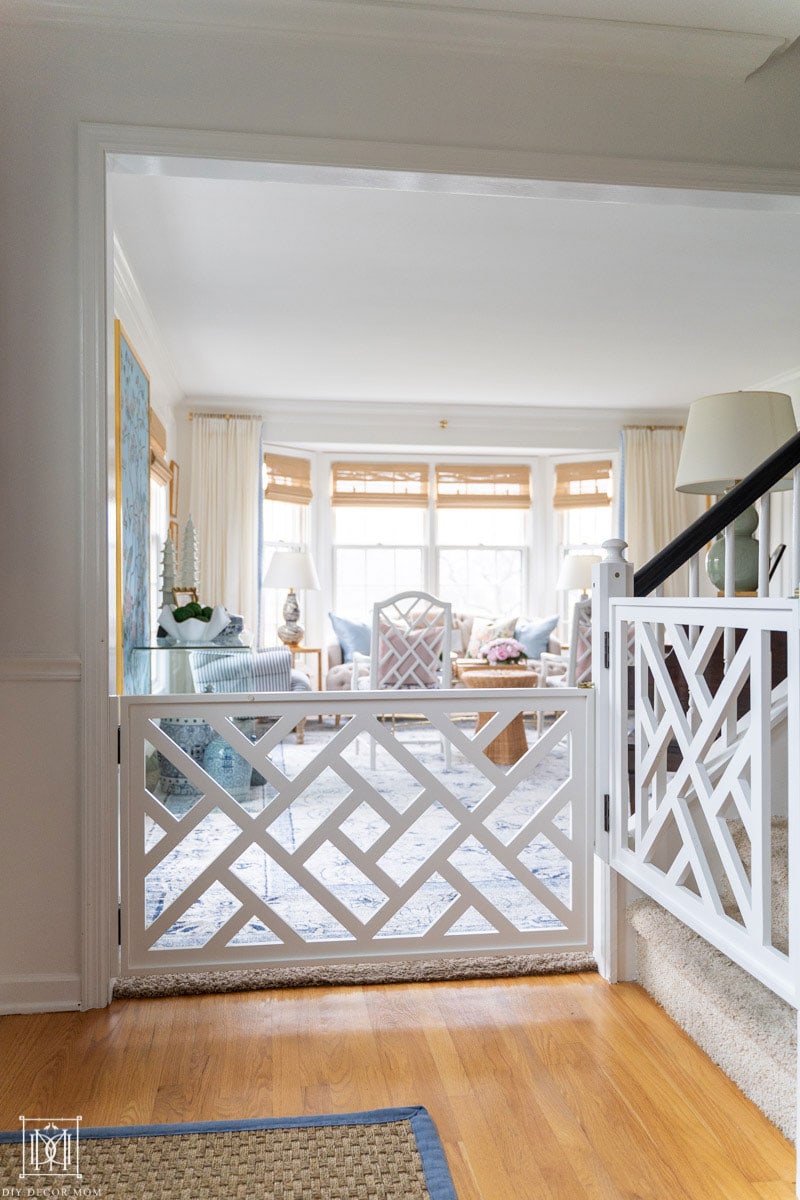 Although it might seem like BAM! new furniture and new room! I've been slowly replacing the furniture when they had good sale prices over the past year or two. Waiting for good steals to come by taking patience, but it pays off in the end! I also ended up using a lot of things we had used elsewhere (like our glass console table) which was formally in our family room.
NEW RUG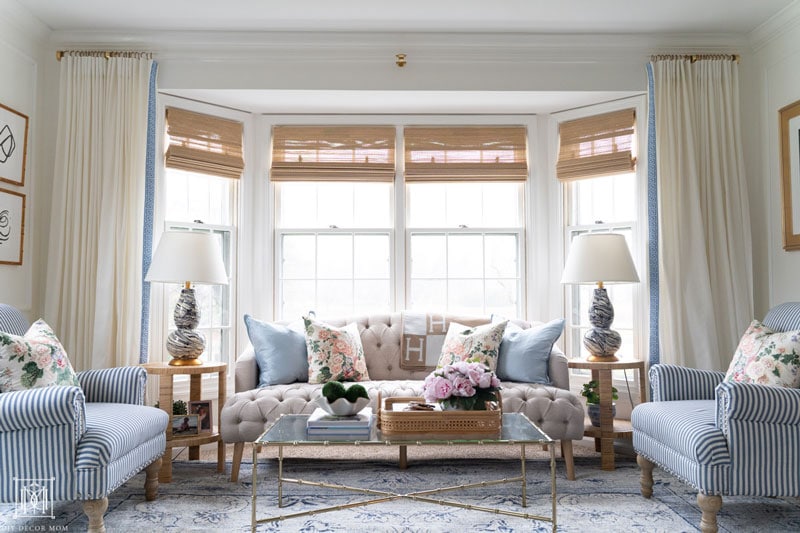 For some reason, in our area of ​​the country (Wisconsin), most houses have wall-to-wall carpeting in the living rooms, family rooms, and upstairs. People seem to prefer it (I'm guessing for the noise reduction, and comfort during the winter.) But, I'm not one of those people. It drives me absolutely crazy.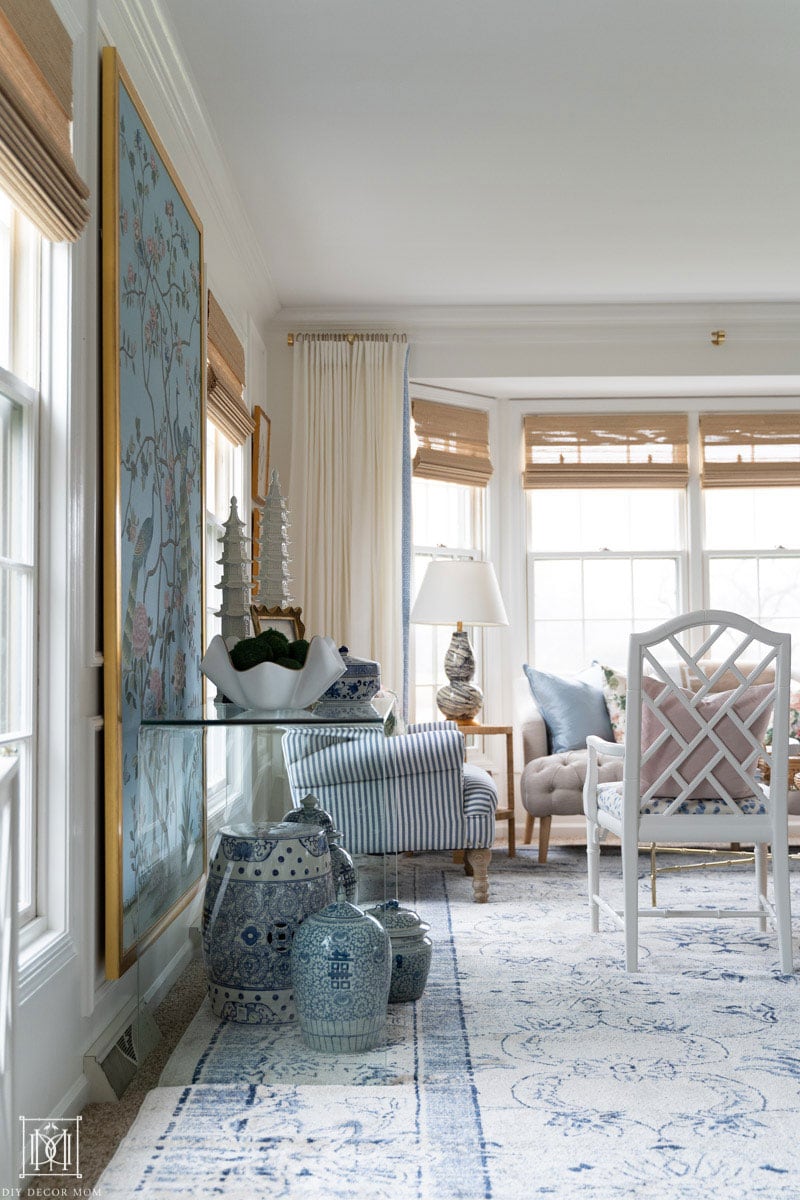 We plan to rip out the first-floor wall-to-wall carpeting eventually (when our Great Dane dies) and we can afford to replace 1/3 of the first floor with new hardwood floors. But it's an expensive investment, and we have some other things on our to-do list first, so I decided to just cover the carpeting up with a new inexpensive oriental for the time being. (Note: although I say the carpeting is old–it's really not–it's just 6 years old.) The previous owners replaced it when we bought the house, so it's brand new. I just don't like it and with four kids and two Great Danes (we had two until a couple of years ago when our oldest Great Dane died,) it's seen a lot of wear and tear.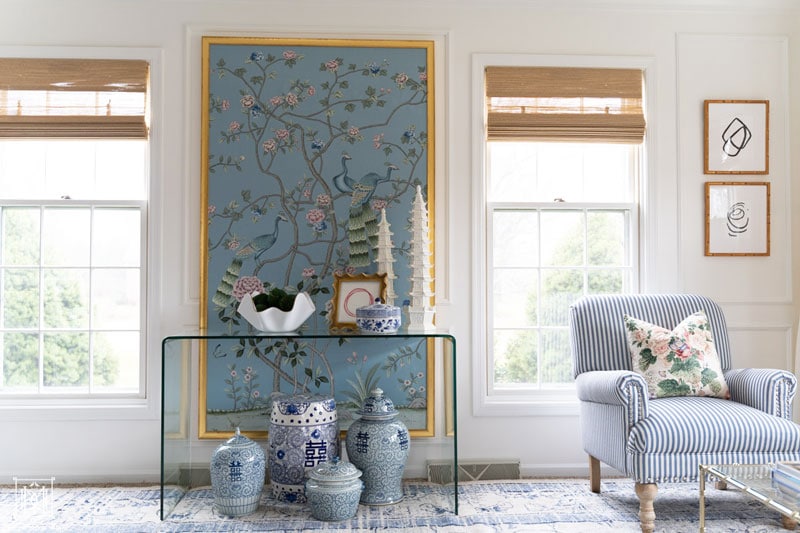 All this said–do what works for you and make it work for your family. Ripping out the carpet and replacing it wasn't in the cards for us right now, so we covered it up! It was an inexpensive fix that only cost $319–a whole lot less than new hardwood floors and rug on top of it would have cost!
BUDGET ROOMS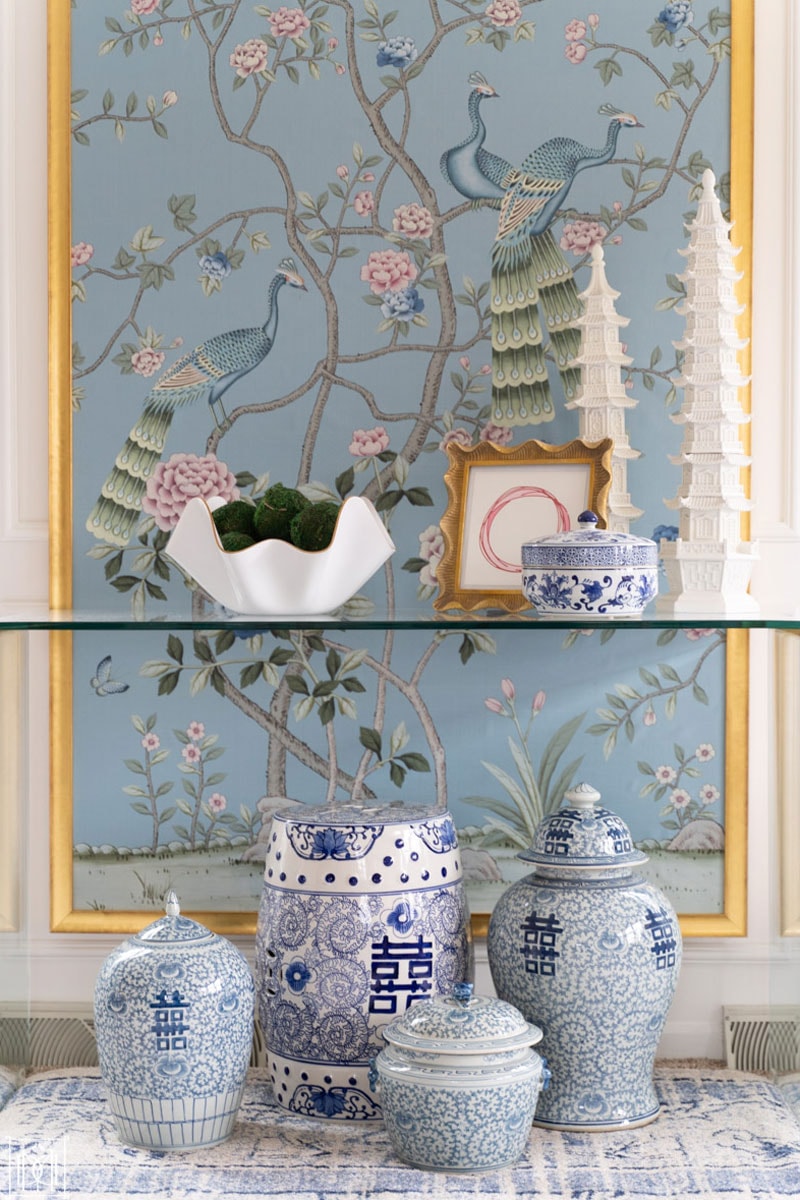 Now here's the juicy stuff, right? I always love to know what a room really costs. And it's always surprising–even for me. Since I never just go and do a room makeover all at once, it's hard to know what a room truly costs. So I did my best and went through all my old receipts to get an accurate estimate. Also, because the purchases were so spread out over the years (some pieces were over five years old) it didn't hurt our bank account like a quick gut job would have.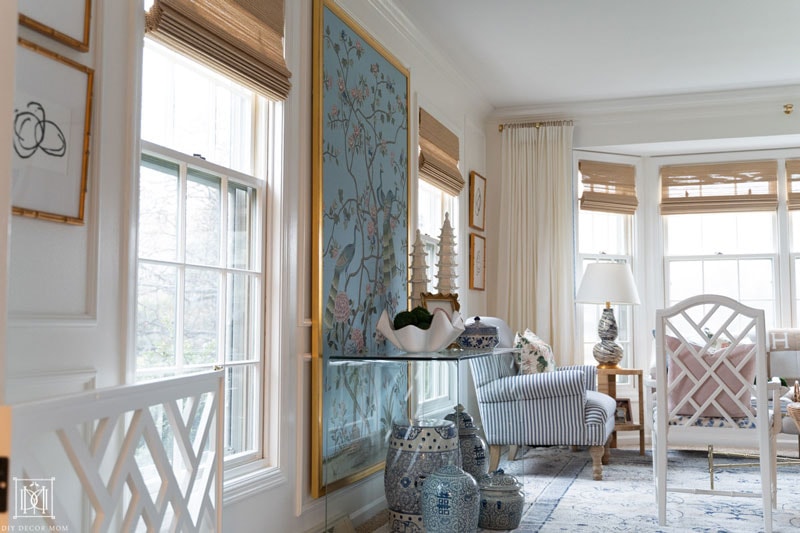 If you have it in your budget to do a room all at once–that's great. If you don't, that's fine too! We like to take our time and it works best for us. Do what works best for your family.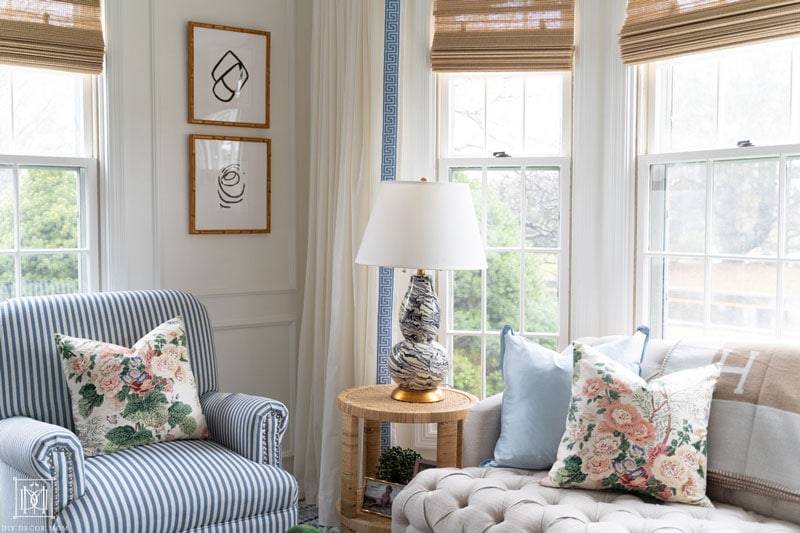 Like everything else, that I do I have expensive taste. I've loved exquisitely decorated homes forever. I remember pinning Downton Abbey photos to Pinterest back in the day and studying how their paneled front parlors looked with the tone-on-tone colors. Over the years, I've just kept an idea of ​​what I wanted and tried to recreate it for less. I've named the inspiration item "splurges" because it's more succinct, and the more affordable item "the steal." These prices might be off for some of you–either cheap for some, or still too expensive for others. It's all relative.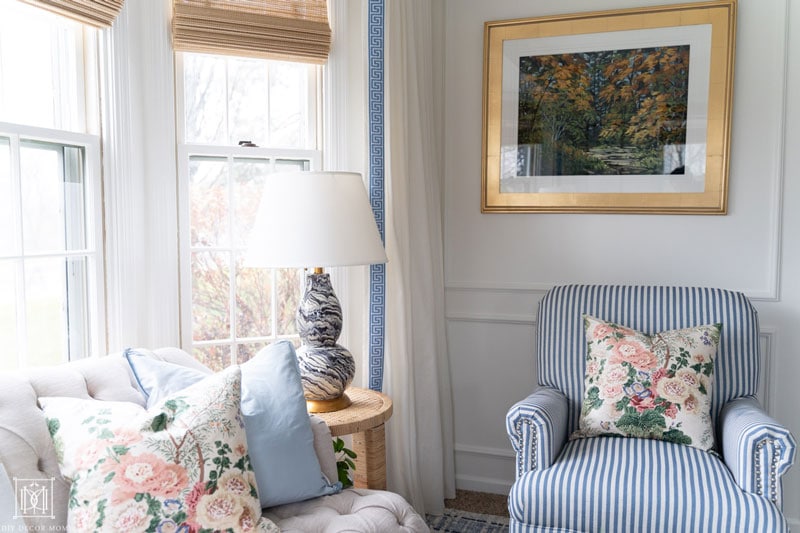 The splurge version of this room came out to $29,685 and the steal version (what we did) cost $4,864 total (spent over several years). This includes everything–the rug, the paint, the lumber, the lights, all the accessories–everything I could think to include is in there. The splurge estimate also includes hiring a professional painter ($150), and a professional carpenter ($1,200).
I've included the price breakdown below for each item (splurge/ steal)
SOURCES
Blue oriental rug (12×16 $319)/ real deal inspiration rug (9×12 rug $3,250)
Vintage Chippendale Chairs (paid $58 for each) covered in this fabric / inspiration chippendale chairs ($868 each)
Lamp on piano (inherited but $650 retail)
Blue and white swirl lamps ($150 for the pair)
Scalloped wicker side table (paid $79)/ inspiration scalloped table ($1,898)
Bamboo blinds ($64/window)/ inspiration bamboo blinds ($173-244/ window)
Rattan side tables ($119/each)
Faux Hermes blanket ($50)/ inspiration blanket ($1,550)
DIY Floral pillows using this fabric (2 yards for a total of $240 for 4)/ inspiration pillows ($180/pillow x4)
Light blue silk pillows x 2 ($58 each and I used a $50 gift certificate)
Pink velvet pillows ($11.99 for two)/ inspiration velvet pillows ($98 each x 2)
Blue striped chairs ($266/ each x 2)/ inspiration chairs ($659 each x 2)
Tufted beige couch ($451)/ inspiration beige tufted couch ($3,798)
White curtains- used 2 packs ($34.99)/ inspiration here ($89/ each x 2)
Blue trim for curtains ($15.99 a yard x 6)/ inspiration here $50.56/ yard x 6 yards
DIY Lucite Rod (1.5″ diameter in a length of 150″)- buy a custom lucite rod here ($684)
Brass flush center post for curtain rods
Brass end caps for curtains
Brass curtain rings (used 40 rings)/ inspiration curtain rings (x40)
Glass console table free/ inspiration console table ($399)
Blue and white ginger jars and pottery paid $299 total- rice vase jar/double happiness jar/ happiness urn/ others- HomeGoods
White pagodas- HomeGoods ($45 each x 2)/ splurge– ($290 for a set of 3)
Kaycee Hughes abstract $125
Gold scalloped frame ($25 for 1 frame)/ inspiration frame ($130)
Chinoiserie Panel/ inspiration panel ($1,948) really the inspiration is Gracie and DeGournay panels but those are priceless and I couldn't find a price for the size I wanted (45″ x 72″)
DIY Gold Frame for chinoiserie panel ($200 for framing materials)
Green moss balls ($10.99 per six balls) x 2)/ inspiration moss balls ($30 per six balls) x2
Gold bamboo coffee table (discontinued from Ballard but paid $251/ inspiration coffee table–
DIY Wavy bowl- spray painted this bowl ($13)/ inspiration bowl ($158)
Rattan tray- discontinued mine was $49 but similar here (round) and the real deal here ($289)
Original pastels- ($1,500 each) we inherited them from my mother-in-law, Mel Thompson Studios and we framed them ourselves with inexpensive En Plein Air frames
Sources: