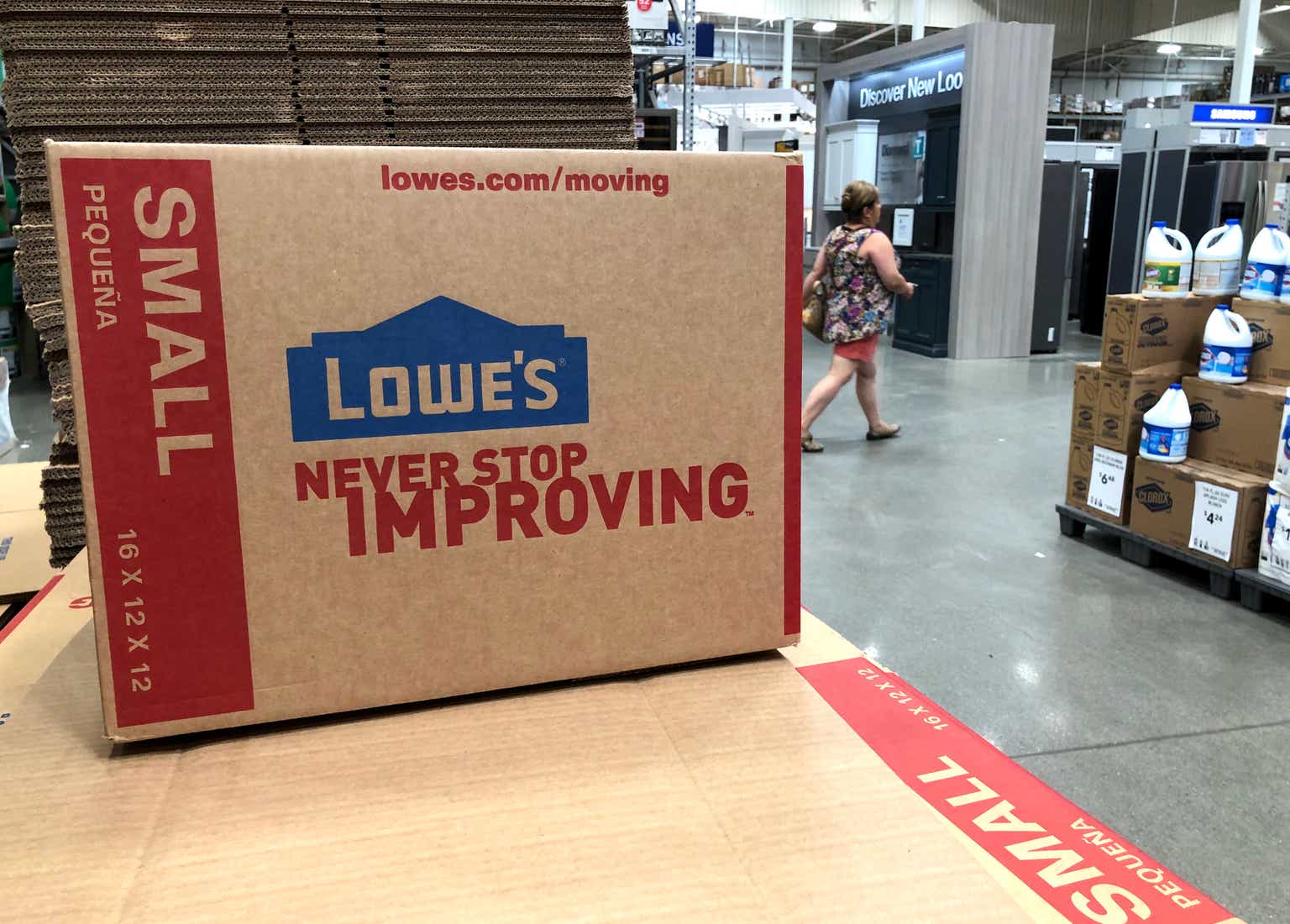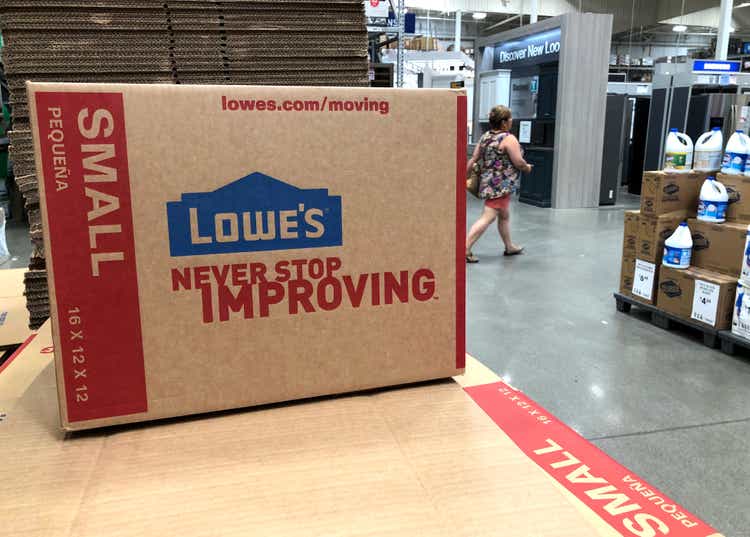 A few months ago, I initiated coverage of Lowe's Companies, Inc. (NYSE:LOW) with a Buy rating because I was impressed with their intense focus on operating efficiency, their solid progress on business transformation, and a well-timed divestiture of their Canada business. I'm returning to Lowe's again to discuss Q1 2023 results and why I was really impressed with these results. I'm maintaining my Buy rating of Lowe's and maintaining my position that Lowe's is roughly around my intrinsic value estimate. This looks like a solid entry opportunity but is unlikely to offer mouth-watering returns over the long run. An investment in Lowe's is almost certain to grow over time but won't be a multi-bagger.
Lowe's reported a 5% YoY growth in diluted EPS with $2.3B in revenue and $22.3B in sales, which represented a 4.3% decline in comparable sales. The full-year 2023 guidance is $87-89B in sales. Despite sales and earnings falling a bit, margins improved, which spoke to efficiency efforts by management, and the Pro proposition continued its strong growth for Lowe's. The company is currently on track to terminate all legacy systems, which will be replaced with new omnichannel staff-facing systems for inventory management and day-to-day operational management.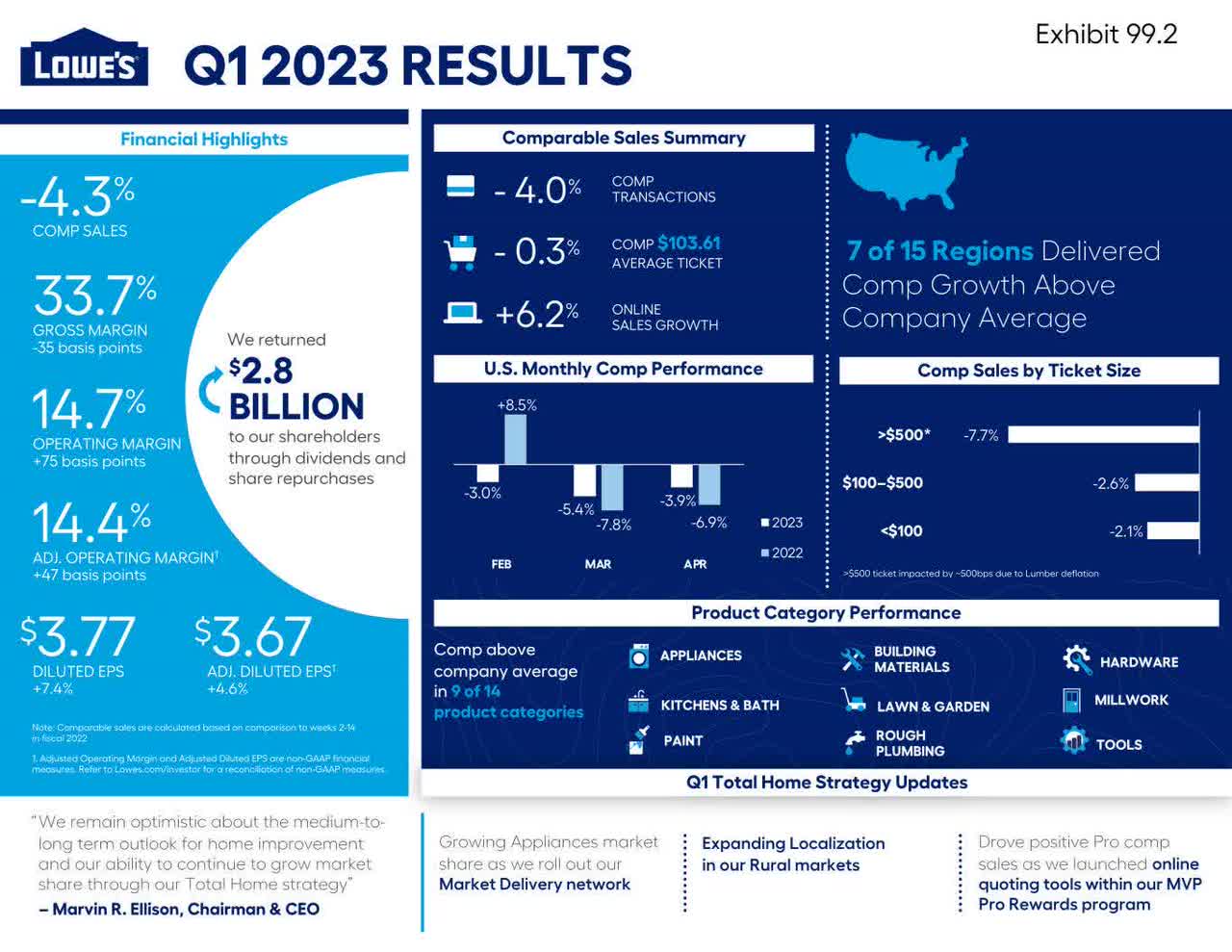 A Two-Front Battle:
The Home Depot, Inc. (HD) has traditionally won with the Pros. Tractor Supply Company (TSCO), henceforth, dominates the rural market. Make no mistake, Lowe's has always been a formidable competitor to these two, but they have never been the leader. That story looks to be changing. Guided by the new management of industry veterans, some of whom are former Home Depot executives, Lowe's is undergoing a comprehensive transformation. They are updating a lot of staff channel technology, upgrading distribution capabilities, and enhancing the omnichannel customer experience.
Lowe's has even delved a bit into the AI ​​frenzy by utilizing Nvidia Corporation's (NVDA) omniverse to make a digital replica of the store. Lowe's recently made a tough decision to sell their Canada retail business at a loss, which I argued in my previous article is a net benefit for shareholders since it will let management focus on cost discipline and growing in the huge US market. Lowe's is also working rigorously to expand their Pro offerings, which is paying dividends already. MVP Pros, those that are signed up for the premium 'MVP' offering, generate more and stickier revenue according to the Q1 earnings call. The MVP segment has continued to grow and is generating strong tailwinds for Lowe's, who noted on the Q1 earnings call that they gained market share throughout Q1.
Home Depot is the clear leader in home improvement retailing market share with Lowe's at a solid number two, so Lowe's gaining market share may mean they are eating share from Home Depot, but even if not it means they are catching up to Home Depot. Market share over time will be won in the pro segment. Although DIY presents secular tailwinds and makes up about 75% of Lowe's sales, the Pro segment is significantly higher margin, less price sensitive, and stickier than DIY customers. Further, Pro has more intense product loyalty, so brand recognition is important for Lowe's to continue developing.
Aside from gaining market share and strong Pro results, which is a direct attack on Home Depot, Lowe's is attacking Tractor Supply in the rural niche. Marvin Ellison, Lowe's CEO, mentioned that they will be opening 300 new stores that have a more comprehensive product offering for rural customers including livestock feed, livestock, pet products, and a variety of other products to meet the needs of rural living. Tractor Supply has met the needs of this group really well over time and the strategy has worked. Tractor Supply has grown to prominence in this space, which has clearly caught the interest of Lowe's.
This may be the beginning of a wider industry trend that home improvement retailers will become more of a one-stop shop for anything any homeowner may need. A 300-store expansion would bring Lowe's up to around 2,000 total locations and would mark a major expansion into the rural market.
The combination of providing more value for Pros and expanding deeper into the rural market makes this a story of Lowe's chasing the number one overall spot in the home improvement space. The race is currently led by Home Depot with a bit under $300B in market cap, with Lowe's at second with just over $120B in market cap, followed by Tractor Supply in third at nearly $25B market cap. Lowe's is looking to solidify its leadership over TSCO and use its solid base and transformation strategy to catapult it above Home Depot, which reported comparatively more bleach results last week.
Conclusion
I feel much more bullish about Lowe's Companies, Inc. after this earnings call than I did before. The Home Depot, Inc. reported their worst revenue miss in about 20 years last week, which set the stage for a bleach report for Lowe's as well, but the results instead were strong and indicate good things about the business transformation strategy. Lowe's should continue compounding and growing well into the future, despite shorter-term macro headwinds. Lowe's Companies, Inc. is a great pick for any long-term investor.