A report on the cost of house construction has recommended developing standardized approaches to the design of housing and recommends simplified layouts.
Construction accounts for approximately 50% of delivery costs, and the aim of the study was to support the reduction in costs for the residential sector – both house and apartment development.
The report, which was presented by Minister for Housing Darragh O'Brien to Cabinet today, compares Dublin with costs in Denmark, Germany, the Netherlands and the UK, as well as specific cities such as Copenhagen, Berlin, Utrecht and Birmingham.
The analysis concluded that construction costs to build the same scheme house in Birmingham to the same specifications as built in Dublin are approximately 15% lower on a cost per square meter basis.
However, it is noted this is due to a combination of differences in local market conditions and labor costs, as well as differences in scope such as no ensuites or fitted wardrobes and differences in sizing.
In addition, houses of 93sq/m were common in Birmingham as opposed to houses in Dublin which were more typically around 110sq/m and larger.
The report, which was conducted by Mitchell McDermott construction consultants, concluded that building the same apartment, to the same specifications as for Dublin, is a similar cost in the four European locations reviewed.
However, the construction cost for apartments built to the actual specifications in these locations can be up to 30% lower – due to differences in scope, specification and unit sizing.
Among the report's seven recommendations is the suggested development of standardized design specifications for student accommodation.
Report author Paul Mitchell explained that to carry out the analysis, the cost of building the Irish product in other cities was considered, versus the cost of constructing the homes typically being delivered in those countries.
It includes a cost comparison of four separate housing types – a three-bed semi-detached home, an urban and suburban apartment, and student accommodation.
"We asked, what would it cost if you built our product in your city and we found it was very similar", Mr Mitchell said.
However, the consultants found that what was being built in those cities was between 17% and 30% cheaper.
"That doesn't make a lot of sense, but when we drilled down into it, we found that we weren't comparing like with like," he said.
"When you walk into your apartment here you've got floor finishes, your kitchen, ensuite, wardrobes. But in Berlin or Copenhagen, you may or may not have a ceiling, or a kitchen, you won't have an ensuite, floor finishes or light fittings.The scope comparison is completely different.
"If you build what we have here, the cost is not that much different, but what they build there is less, so it's not the same scope."
Mr Mitchell said there were also big differences when it came to standardisation, citing 21 different types of windows used in Ireland, whereas other countries only used four.
Among the report's recommendations is to consider the use of standardized designs for dwellings and how we build our external walls, which Mr Mitchell said is very expensive by comparison to Europe.
He expected the Irish product to be cheaper in other cities, he added, but that was not what the study concluded.
"If we found they built us [product] cheaper, that would have meant that Irish construction costs were too high.
"But because they were showing pretty level, it means we don't have a problem with costs, we have an issue or an opportunity with what's in the costs".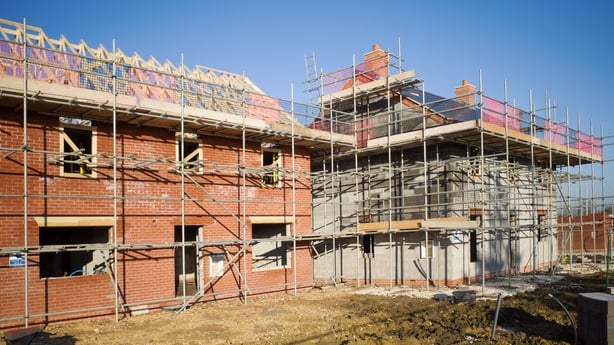 Speaking to reporters this afternoon, Taoiseach Leo Varadkar said standardizing construction "is something we can examine and certainly Minister O'Brien is very keen to do that".
He said today's report "does show something that we knew already, that it costs more to build in Dublin than it would in other capital cities in other countries".
"It does outline that are some reasons for that. Construction workers get paid more in Ireland than they do in many other countries. I don't think that is a bad thing, we need to attract construction workers into Ireland, we need to attract people into the construction industry," he said.
"Also, in many cases our standards are higher, for example we require natural light, we require en-suite bathrooms, I'm sure that is a bad idea."
"Yes of course, we will always compare what happens in other countries and we are open to modifying business standards, buy we don't want to reduce construction worker pay and we don't want to lower the quality of what we build here," he added.
Additional reporting Laura Hogan, Brian O'Donovan